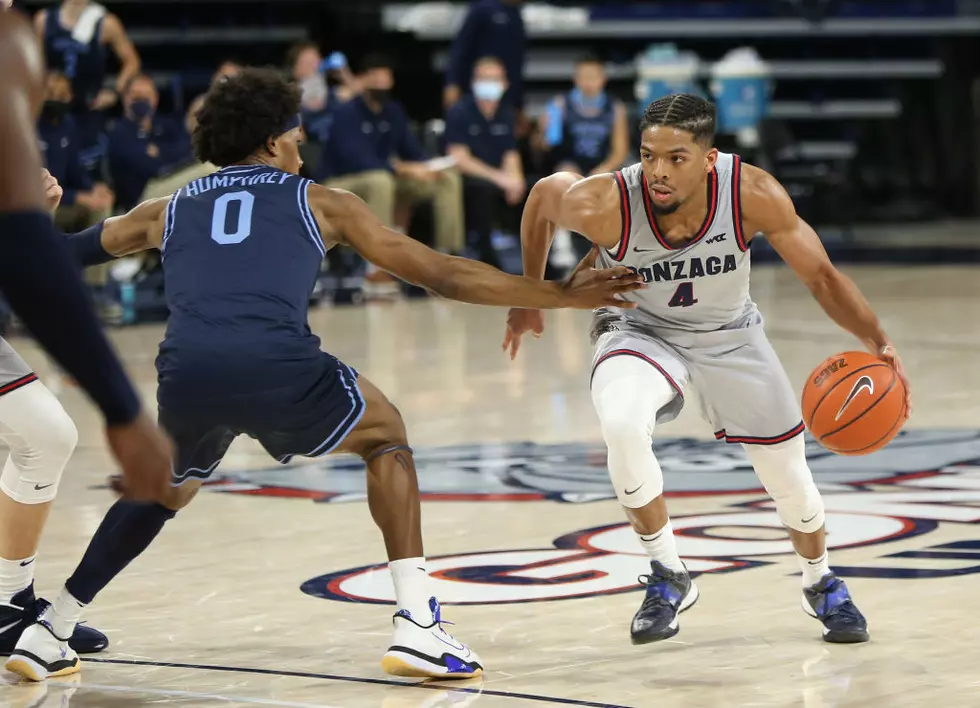 Can Gonzaga finally bring home Washington's first NCAA title?
Getty Images
This content was produced in partnership with Gambler.Media.
For West Coast teams, the NCAA Men's Basketball Tournament has been a rough go of late.
And by "of late", I mean the 45 years.
Since the end of the UCLA dynasty in 1975, the tournament has mostly been an Eastern time zone party. Sure, UNLV picked up a title in 1990, as did UCLA in 1995 and Arizona in 1997: but those are it.
In fact, the only other titles west of the Mississippi River in that time came in 1988 and 2008, both from Kansas.
For Washington State, the picture has been even direr: just two Final Four appearances ever: Washington in 1953, and Gonzaga in 2017, when the Zags lost to North Carolina in the title game.
But that might all change in 2021.
Gonzaga (22-0) is one of two teams still unbeaten this season coming into the last week of February, along with Baylor (17-0), while Michigan is 16-1.
Not surprisingly, those three teams have by far the best odds to win the 2021 Championship on Monday, April 5 in Indianapolis. Michigan has odds of +900, while the other two are much lower: Gonzaga is a slight favorite with odds of +300 with most sportsbooks, while Baylor is just behind at odds +320 by BetMGM Sportsbook.
There have rarely been two teams so much better than the rest of the field, and the books are already finding some interesting prop bets to play up on that fact heading into March.
Right now, you can get special custom bets with most books on the two teams to win. For example, FOX Bet has a special that has the same odds (-118) for both sides: Gonzaga OR Baylor to win the 2021 NCAA Championship, and Gonzaga OR Baylor NOT to win the 2021 NCAA Championship.
That is pretty unheard of, especially in this time of parity. High seeds almost always do well in this tournament, but usually, there are three to four teams, and maybe up to eight, that could realistically win the title.
This year, all the talk is about Gonzaga and Baylor: they are that much better than the other teams. Neither has been challenged at all this season, although the Bears have been shut down for three weeks, so that could be a factor next month.
But will it be a help, or a hindrance?
If you asked me today, I would have to go with Gonzaga. But watch out for Florida State.
If you or anyone you know has a gambling problem, call 1-800-GAMBLER.