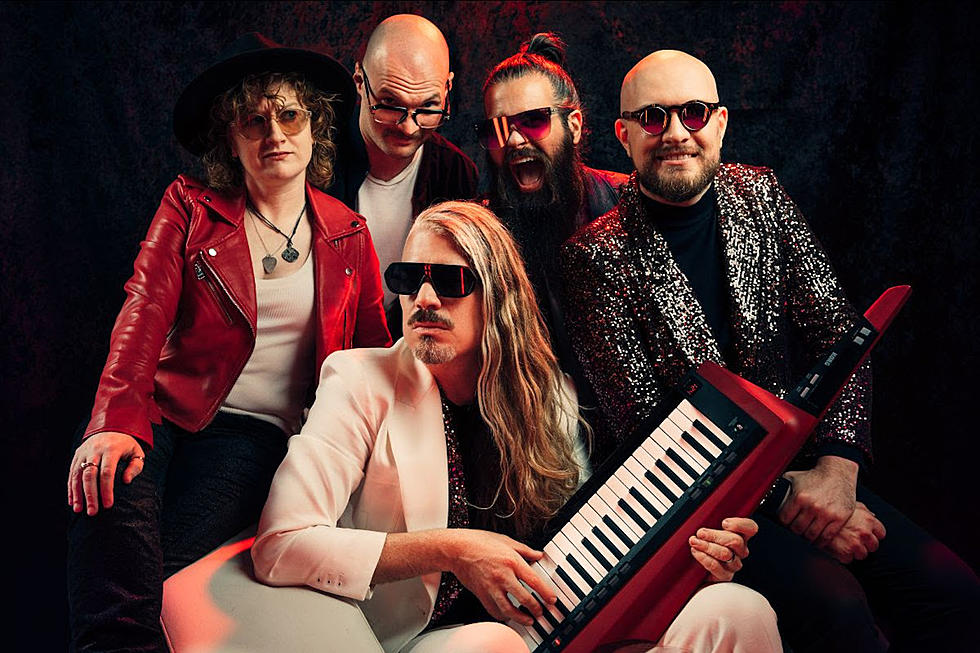 Voyager Singer Danny Estrin Diagnosed With Cancer, Band Postpones Touring
Photo by Mike Dann
Voyager have put their touring activity on hold for the time being after receiving word that lead singer Danny Estrin has been diagnosed with cancer. The vocalist shared the news via social media, explaining that he was on "strict doctors' orders" not to take the diagnosis lightly. While treatment is forthcoming for the musician, the band has decided to postpone their touring until 2024.
Estrin posted a lengthy missive on social media that reads as follows:
Hi Everyone,

Danny here. Last week I was dealt some life-altering news: I've been diagnosed with cancer that requires immediate treatment. I am absolutely devastated that we cannot perform on our forthcoming European tour, especially after this incredible Eurovision year we've had. I am on strict doctors' orders to not take this lightly, put my health first and get this sorted so we can be on stage again as soon as possible.

This has been an extremely hard decision to make, but one that everyone will hopefully understand.

At this stage, the tour will be rescheduled to October 2024 and we'd love fans to keep hold of their tickets where possible, but we understand if you prefer to request a refund: You can do so from your point of sale.

Voyager will perform our last show for a while at this America's Cup event in Fremantle, Western Australia this Sunday 24 September 2023, so come and party with us before I start treatment.

In the coming weeks I will focus on my health and family and ask that everyone please respect our privacy. I truly value and appreciate everyone's support and understanding during this time.

I'm surrounded by my incredible bandmates and team who are navigating all things Voyager whilst I am out of action.

Love, your fierce friend Danny!
While the 2024 rescheduled dates have yet to be revealed, as stated above, all tickets already purchased will be honored for the new shows.
READ MORE: Voyager's Danny Estrin Calls Eurovision Song Contest a 'Big Deal for a Little Old Heavy Metal Band'
This had been a breakout year for Voyager after capturing attention earlier this year at the Eurovision song contest. The band issued their eighth studio album, Fearless in Love, back in July. The album's most recent single is "Ultraviolet," a track that pairs them with Sean Harmanis of Make Them Suffer. The Fearless in Love album is currently available at this location.
2023's Best Rock + Metal Songs (So Far)
These are our favorite tracks of 2023 (so far).