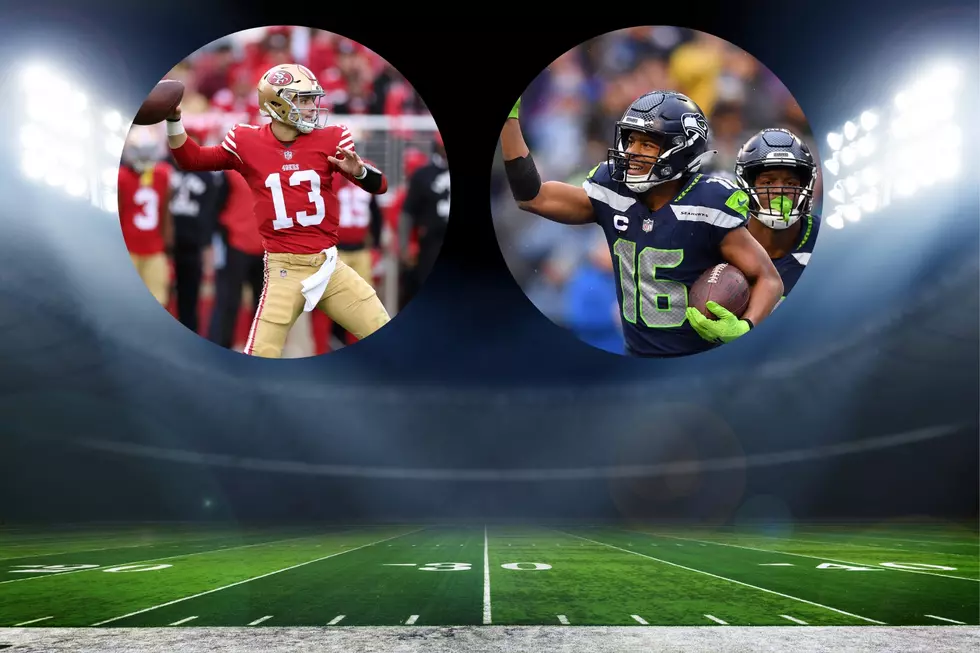 Seattle vs San Francisco in Playoffs. Who is Oregon Cheering For?
Getty Images, Canva
Seahawks fans are pumped.
It's back to the NFL Playoffs for the Hawks after a 9 - 8 season that saw a lot of ups and downs. The Wild Card weekend pits Seattle against their NFC rival San Francisco 49ers, 13 - 4, who defeated the Hawks in both regular season matchups. What can fans expect? Which team is more popular in the west?
Seattle Seahawks vs San Francisco 49ers in Wildcard Weekend NFC Matchup
The Seattle Seahawks captured the 7th Seed in the NFC playoffs by beating the Los Angeles Rams yesterday 19-16 in OT and had help from the Detroit Lions who beat the Green Bay Packers 20-16.
The San Francisco 49ers will host the Seahawks on Saturday at 1:30 pm. The game will be telecast on FOX. Listeners can hear the game on NewsTalk 1280 & 101.3 KIT.
49ers or Seahawks More Popular in the Western States of CA, OR, WA, MT, AK, HI, ID
At the beginning of the 2022 NFL season, the results of a popularity poll were released by USA Today. Data was compiled between 2017 and 2022. Not surprisingly, the Seattle Seahawks were the most popular NFL team in Washington state. It wasn't a stretch to believe the 49ers were the most popular team in California. But, which team commands a bigger fanbase in the other western states?
It turns out, if you're in Oregon, you're more likely to be a Seattle Seahawks fan. The same is true for fans in Idaho, Montana, and Alaska. When it comes to the 49ers, Hawaii is the only other state to have left its collective heart in San Francisco. My prediction: Seahawks 45 - San Francisco 30. Check out the photo gallery below.
GALLERY - SEAHAWKS vs RAMS WEEK 18
LOOK: These Are the Richest NFL players
To uncover the richest NFL players,
Stacker
consulted
Celebrity Net Worth
and ranked them by their 2022 net worth, calculated using a proprietary formula.
TACKLE THESE: Check Out the Best Uniforms In Each NFL Team's History