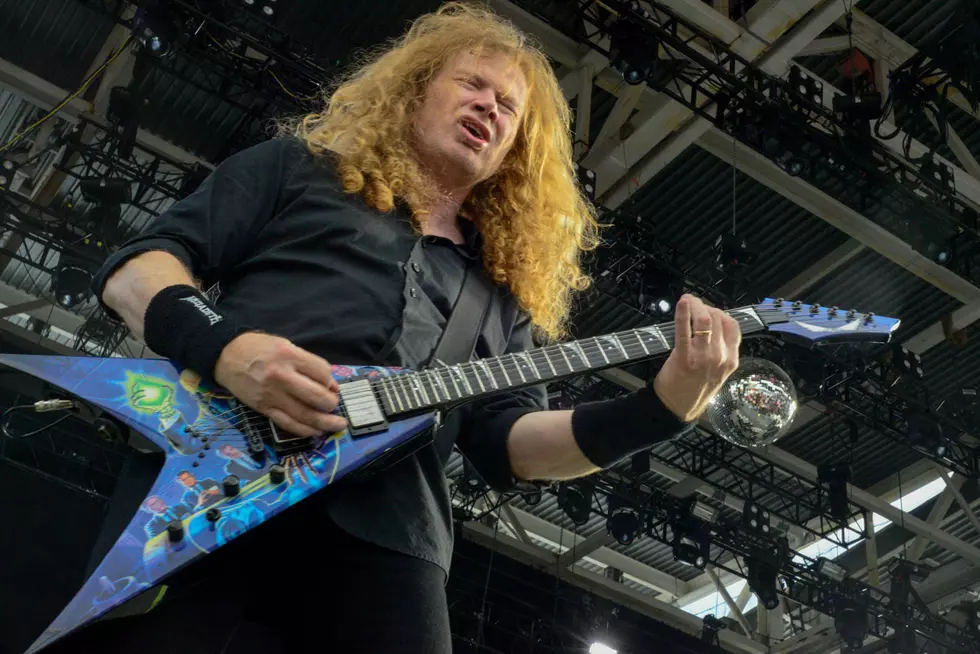 Megadeth Targeting April 2019 Album Possibly With Blast Beats
Evil Robb Photography, Loudwire
As Megadeth wind down support for 2016's Dystopia, the band has begun to look ahead to their next album. There's been talk of a 2019 release and in a recent interview with Mitch LaFon (audio below), Dave Mustaine shed the most light on what we can expect from the new record and some big festival-like tour plans slated for next year as well.
Mustaine explained that Megadeth's members have been sending new music back and forth "and the stuff that Dirk's [Verbeuren, drums] been playing along to it is scary." He suggested some fresh elements could enter the band's sound thanks to Verbeuren, adding, "We've never had any of those blast beat kind of things in our music before."
Perhaps the biggest compliment thrown the drummer's way was when Mustaine stated, "It's making me a better guitar player again, which I love," noting, "I never thought we were gonna be playing this fast or this aggressive again" before offering up a tentative release date. "We're hoping April of next year," he commented.
As for the "huge festival," which will be announced next year, Mustaine detailed, "It's kind of an equivalent of Gigantour, but it's a much fresher idea. We've got that set up in about 10 cities in April. We're gonna do that again for a three-day weekend in the middle of the year and then we're gonna do probably about another 10 of those dates at the latter part of the year." There's also a "'Murder Who Died' kind of boot camp" cruise that will take place in Europe. "It's a great day to be a Megadeth fan," Mustaine declared.
Dave Mustaine on Rock Talk With Mitch LaFon
10 Greatest Megadeth Riffs