Theory of a Deadman in Kennewick this September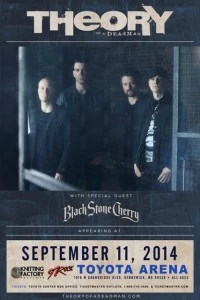 Theory of a Deadman with special guests Black Stone Cherry have announced a show  for Thursday, Sept.11, at the Toyota Center in Kennewick.
Tickets for the concert go on sale this Friday at 10 al.m. at the Toyota Center Box Office and all Ticketmaster Outlets (Fred Meyer) or by calling
1-800-745-3000. You can also order online at www.Ticketmaster.com and www.KnittingFactory.com.
Admission is $26 in advance, $27 day of show. Seating is all general admission and all ages are welcome. Doors open at 6:30 p.m. and the show starts at 7:30.
Theory of a Deadman is touring in support of their new album, "SaVages."
In the middle of 2013, the platinum-selling Canadian quartet began working on what would become its fifth full-length album. However, everything in their lives rapidly and unexpectedly changed. Whether it be a shakeup at their label, waning interest in rock on radio, or the downturn of society at large, myriad issues weighed heavy on members Tyler Connolly (lead vocals, lead guitar), David Brenner (rhythm guitar), Dean Back (bass) and Joey Dandeneau (drums).
So, Connolly channeled it all into his songwriting.
"It's such a different record for us," he asserts. "I'm known as the guy who writes all of the 'breakup' songs. It would have been typical to write more, so I did just the opposite. There's something very brutal about our culture. I got nightmares from 'Terminator' as a kid and, now, you can watch real murders on YouTube. We're so desensitized. I went from writing about crazy women to how screwed up we are. That's the theme. I'd spend 20 hours a day at my home studio. I became a weird recluse, and I even grew a beard. I dug in deeper than ever for these songs. I just said, 'F*ck it' and went for it."
"We want to give fans a great Theory of a Deadman record," Connolly leaves off. "We owed them this album. It's completely real, unrestrained, and unbridled. We want their acceptance above all. This is for them, and we're all extremely proud of it."