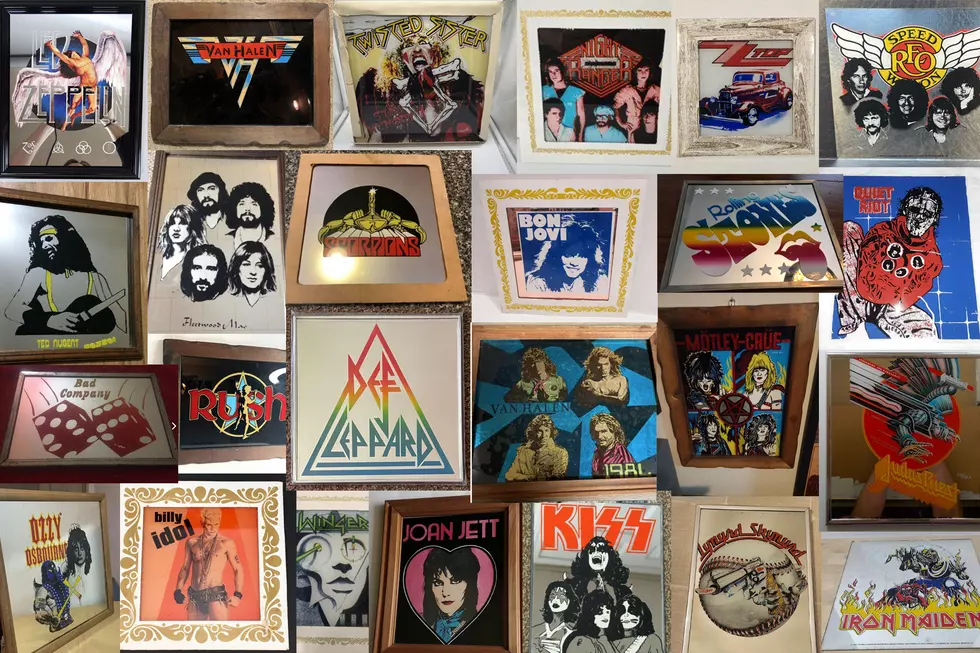 See 200 Awesome Rock 'n' Roll Carnival Mirrors
eBay / Worthpoint
In the '70s or '80s if you were lucky or persistent enough to win at one of the many unabashedly rigged games at your local carnival or state fair, you probably went home carrying a mirror etched with the likeness of one of your favorite rock stars.
If you've still got some of these vintage treasures up in your attic - instead of proudly displayed in your living room where they rightfully belong - you might want to dig them up because they could be worth big bucks on eBay.
Below you will find pictures of 200 rock 'n' roll carnival mirrors.
Amazingly, there doesn't seem to be any comprehensive research on the internet detailing which artists were the most popular in the prize mirror realm. Hard rock and heavy metal bands obviously did very well for themselves, and you will find numerous designs featuring Led Zeppelin's blimp, Iron Maiden's mascot Eddie, the Van Halen logo and Kiss' painted faces among the images below.
Oddly enough, good looks also seem to count for something in the rock 'n' roll prize mirror world, as Bon Jovi and Duran Duran's faces can be seen in several of the mirrors, alongside a nearly naked Billy Idol.
Will there ever be a rock 'n' roll prize mirror revival, with Greta Van Fleet and Mammoth WVH star Wolfgang Van Halen's etched likenesses tempting you to part with one more dollar at the ring toss booth? We can only hope. In the meantime, go check your storage boxes.
200 Classic Rock Carnival Mirrors
If you have any of these in your attic they might be worth big bucks.