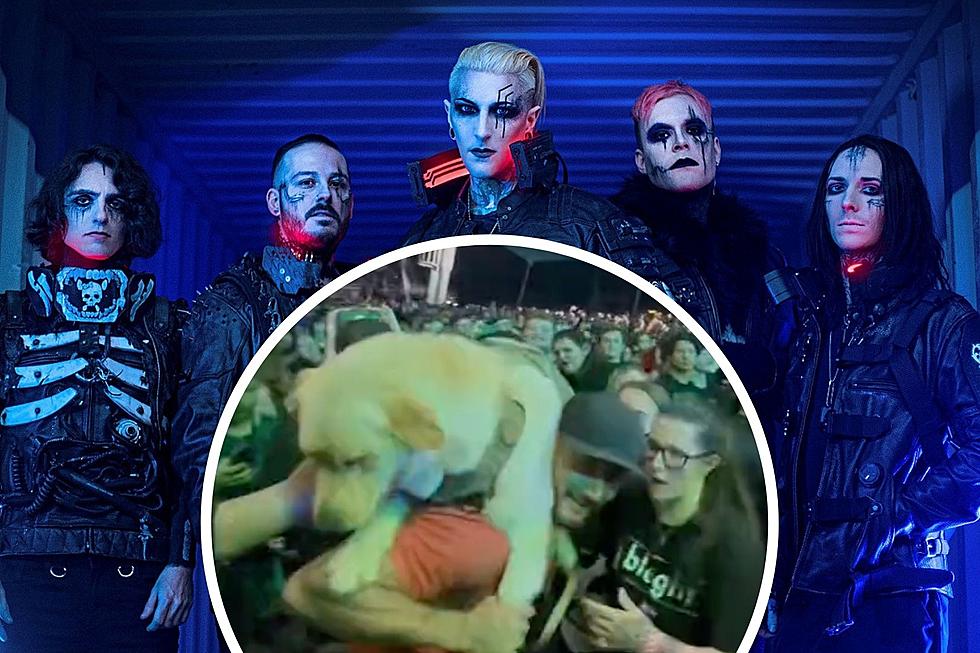 Motionless in White Drummer Not Happy Someone Brought Their Dog to the Show, Shares Message
Ashley Von Helsing / X: @Phils08champs
At Motionless in White's hometown show in Scranton, Pa. on Saturday (Sept. 16), a fan brought their golden retriever dog along and held it up in the pit. It drew a response from drummer Vinny Mauro, who was not happy to have seen this take place and for good reasons, which he outlines in a social media post.
The set took place at The Scranton Apocalypse Fest, which featured headliners Motionless in White as well as Parkway Drive, Knocked Loose, The Amity Affliction, After the Burial, Northlane, Alpha Wolf and Make Them Suffer.
A video circulating on X (formerly Twitter), shows a person holding the golden retriever over their shoulders. The dog is wearing a vest, the markings on which can not be determined by watching the clip, but it's possible this dog is a service animal as the vest has a similar appearance to ones worn by service animals.
Many commenters expressed dissatisfaction over the dog's attendance at the concert, concerned that it looked "stressed" and "miserable," likely attributed to sensory overload and being hoisted in the air for long periods of time.
Mauro joined the chorus of those both shocked and dismayed by what they saw, stating on X, "Seeing the dog in the pit at our Scranton show really bummed me out and I wanna go on record to say unless your dog is literally deaf and blind and somehow also loves to be held in the air for 3 hours, do not bring them to a show, headphones or not," followed by a red-faced angry emoji.
Just a couple of weeks ago, it was reported that a dog (Storm) snuck out of her home, slipped into SoFi Stadium in California, sat in a seat and watched Metallica's performance. In a statement also warning against bringing animals to shows, the band also mused that Storm got to see songs such as "Barx Aeterna," "Master of Puppies" and "The Mailman That Never Comes," making puns out of noteworthy Metallica song titles.
Meanwhile, Motionless in White's headlining North American tour with special guests Knocked Loose, After the Burial and Alpha Wolf is underway and will continue through Oct. 29. See all of the scheduled dates here.
10 Ways Not to Be an A--hole at Concerts
Because wtf is going on lately?