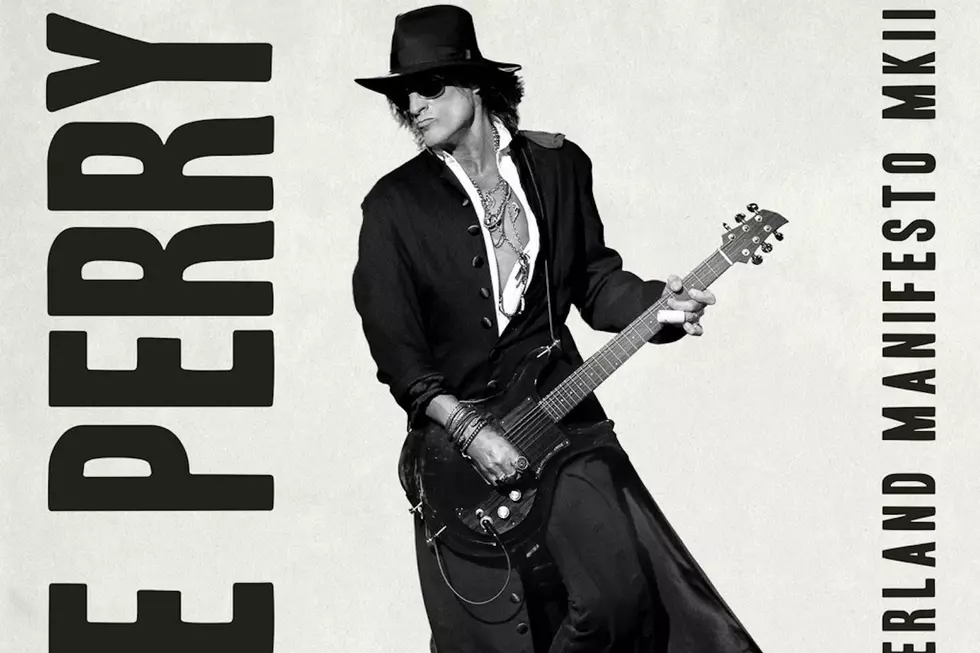 Joe Perry Announces New Album, 'Sweetzerland Manifesto MKII'
Roman Records
Joe Perry has announced a new album, Sweetzerland Manifesto MKII.
The new LP comes out on May 26 and includes six tracks featuring alternate vocal appearances and mixes from Perry's first incarnation of the album, which was released in 2018.
"We had so many songs and with everything going on with the Vampires, Aerosmith, COVID, not touring and touring, this music kept riding along for me," Perry explained in a press release.
"It was like the engine of a train that wasn't going to stop. I'd wanted to put these songs out, and the idea of adding them to a vinyl release or Deluxe Version turned into doing MKII. I tend to think in terms of albums. The first one had a vibe, and MKII is a little more rocked out. I almost prefer it. It's one of those records I can play from front to back live."
Perry has already released the first song from MKII, "Fortunate One," featuring the Black Crowes' Chris Robinson and Robert DeLeo of Stone Temple Pilots. You can listen to the track below.
"We started it in L.A., recorded it in London and Chris sang on it," Perry said. "And bang! Doesn't get better than that! Really proud of this track."
Sweetzerland Manifesto MKII also includes guest appearances from New York Dolls singer David Johansen, Robin Zander of Cheap Trick and others. You can see the track listing below.
Perry is set to hit the road on April 15 with his Joe Perry Project, performing six dates across the U.S. Aerosmith currently does not have any tour dates scheduled. The band canceled its remaining 2022 shows in December as singer Steven Tyler dealt with an undisclosed health issue.
Joe Perry, 'Sweetzerland Manifesto MKII' Track Listing
1. "Fortunate One" - Features Chris Robinson (The Black Crowes) and Robert DeLeo (Stone Temple Pilots)
2. "Quake" - Features Gary Cherone (Extreme/Van Halen)
3. "I'll Do Happiness" - Features Terry Reid
4. "Aye Aye Aye" - Featuring Robin Zander (Cheap Trick)
5. "Man With a Golden Arm" - Instrumental
6. "Time Will Tell"
7. "I Wanna Roll" - Featuring David Johanson (New York Dolls)
8. "Suck It Up" - Featuring Robin Zander (Cheap Trick) and Robert DeLeo (Stone Temple Pilots)
9. "Goes His Own Way" - Featuring Terry Reid
10. "Won't Let Me Go" - Featuring Terry Reid
Aerosmith Albums Ranked
Any worst-to-best ranking of
Aerosmith
must deal with two distinct eras: their sleazy '70s work and the slicker, more successful '80s comeback. But which one was better?