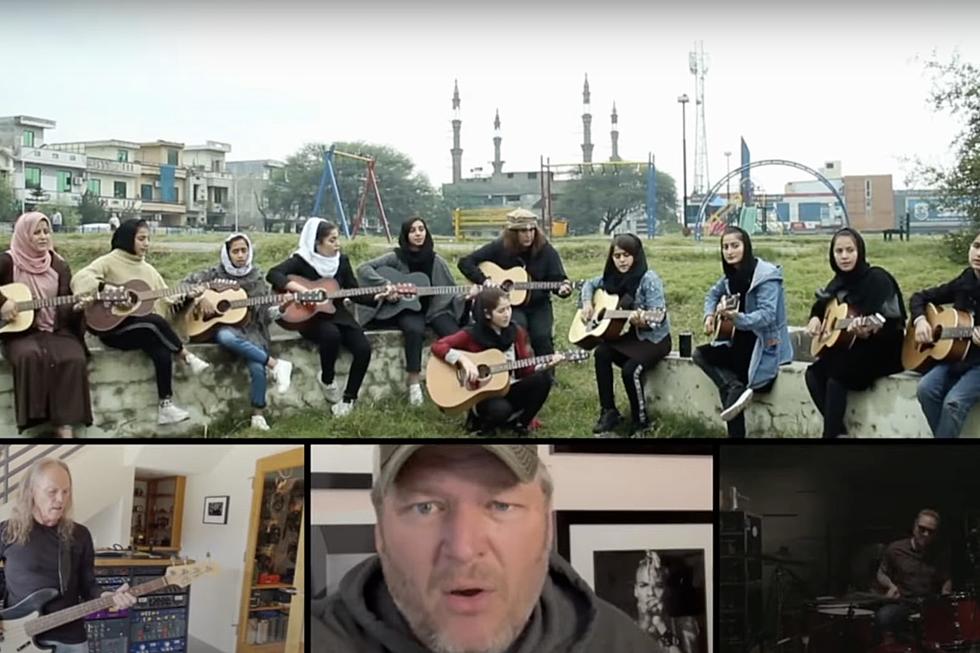 Watch Joe Walsh and Timothy B. Schmit Cover 'I Won't Back Down'
YouTube
Joe Walsh, Timothy B. Schmit, Blake Shelton and Matt Sorum have released a video for their cover of Tom Petty's "I Won't Back Down," a charity single released in support of Afghan girls.
The song, which features Shelton on lead vocals, was released in November by the Miraculous Love Kids organization. Founded by musician Lanny Cordola, the nonprofit works to bring music to children in war and poverty-stricken areas, "in particular young girls who have little to no rights and are often forced into marriage and face the most extreme forms of violence."
"May music always bring you girls the inspiration and connection to a higher power that delivers you strength and joy," Walsh said in a press release. "I'm grateful to have shared this moment with you all. Peace and love."
You can watch the new video below.
Previous covers connected to Miraculous Love Kids include Eurythmics' "Sweet Dreams (Are Made of This)" featuring Tom Morello, Kathy Valentine and Wayne Kramer, and Sammy Hagar's take on Steve Miller Band's "Fly Like an Eagle."
"In 'I Won't Back Down,' Tom Petty so powerfully wrote, 'You can stand me up at the gates of hell, but I won't back down.' The girls and I are honored to have Blake, Joe, Timothy and Matt join us in spreading this message far and wide," Cordola said in a statement at the time of the song's release.
"Lanny is a saint for being a part of these girls' lives by helping them move forward through music," Schmit added in 2023. "Even after all they've experienced in their young lives, you can see and feel their beautiful life forces shining through."
The Best Song From Every Tom Petty Album
There's a common thread running through Tom Petty's catalog, and it's the Heartbreakers.