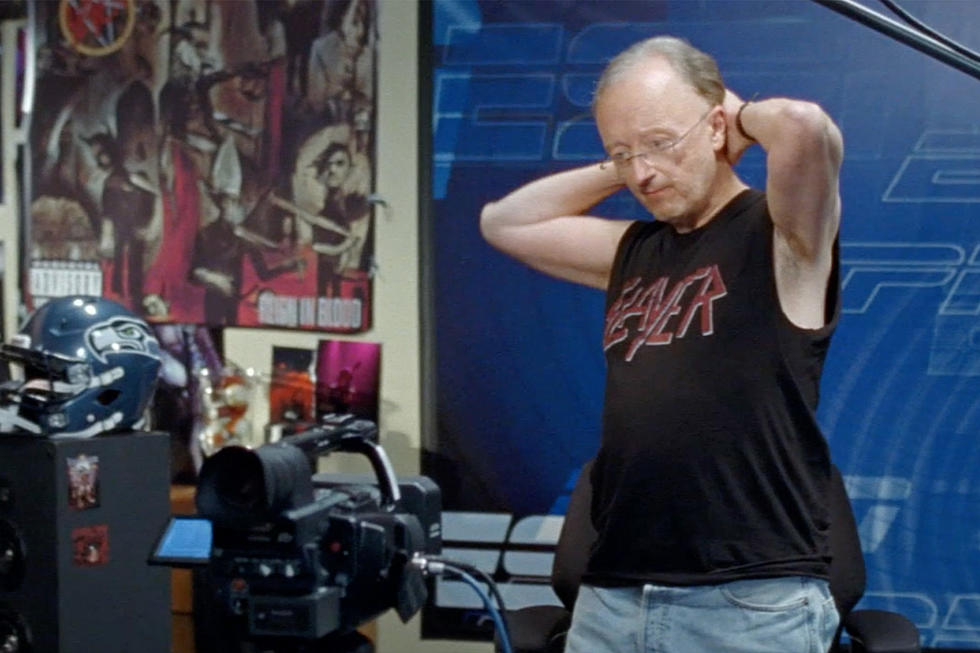 That Time NFL Insider John Clayton Made ESPN More Metal With Slayer Fandom
ESPN.com
The sports world lost one of its most respected and beloved journalists Friday (March 18) as longtime NFL insider John Clayton died at the age of 67. But thanks to a 2012 commercial, Clayton also became known as one of sports biggest metal allies, humorously deconstructing his on-air persona to reveal his off-screen Slayer fandom, pulling back the curtain on the network's remote segments.
The sports news and entertainment network first started rolling out their "This Is SportsCenter" campaign in 1995, using a variety of sports figures, pop culture references and often humorous situations to promote their signature sports news program. In 2012, that meant longtime ESPN football insider John Clayton was ready for his turn in the spotlight in what current ESPN NFL analyst Field Yates calls the "greatest SportsCenter commercial ever," as he shared in his tribute to Clayton below.
"It's hard to find an expert more dedicated than John Clayton. He's the consummate pro," states SportsCenter anchor Neil Everett at the top of the clip, then cutting to an interaction between Clayton and SportsCenter co-anchor Stan Verrett. But what happens when the segment is over and the cameras are off?
We learn that "The Professor" is actually shooting from home, quickly doffing the faux suit and tie seen onscreen to reveal a sleeveless Slayer T-shirt. Equally surprising is that behind Clayton's closely cropped locks is a glorious lush metal mane that had been pulled back into a ponytail never viewable on air.
Clayton's room, save for the ESPN backdrop, is his bedroom covered in metal posters. He then cranks some metal, hopping onto his bed and picking up a container of Chinese food and chopsticks before yelling out, "Hey Ma, I'm done with my segment." Watch that classic clip below.
The ESPN promo became an instant sensation. Artisan News Service caught up with Slayer's Kerry King shortly after it was released and the guitarist revealed that one of his contacts with the Oakland Raiders had reached out to him about the promo. "I got back to the room and I checked it out online and I knew it had to be something like that for him to send it to me, and (laughs) you gotta see it (laughs). It's awesome," stated King.
The ad brought Clayton even more fandom. Speaking with the News Tribute in 2014, Clayton recalled, "What happened was back in May of 2012, they came to me with this idea to see if I was interested in doing this ESPN SportsCenter commercial involving Slayer and all that, and I said, 'Oh yeah, that'll be great.' They sent me the script. I had no problem with it. I thought it'd be fun. The ad agency that did it thought it might be one of the best ones they ever did, so I said, 'Yeah, let's do it.'"
It was pretty obvious that the promo was drawing a favorable response. "What they did, right before the commercial was supposed to air, they leaked it out. And I think in the first couple of days it had two million hits and then went up to three million and it did go viral," said Clayton.
And yes, for the record, Clayton revealed that he was a Slayer fan. "Of course I am," exclaimed the ESPN Insider in 2014. "The great part was, Slayer was in town, in Seattle, about a month and a half or two months ago back in November and I got a chance to go down and see the guys. They don't let anybody backstage before the concert because they prep pretty hard. But I went down there for the chance to see them and one guy is a Raider fan, one guy is a 49er fan, so I got a chance to spend about 45 minutes with them."
He recalled, "Kerry's wife, the guitarist, took good care of us so we could watch the concert. It was great and they are great people who are great musicians. It's a great group." You can see a photo of Clayton posing, while donning his Slayer shirt, with King and Gary Holt here.
Remaining committed to the bit, Clayton once again had a chance to talk Slayer on ESPN in January of 2016 when NBA star Russell Westbrook was spotted wearing a Slayer T-shirt upon his pre-game arrival.
SportsCenter anchor Lindsay Czarniak welcomed Clayton with the "who wore it better" premise for a segment. "Look at that outfit," Clayton marveled as a shot of the stylish Westbrook sporting a Slayer t-shirt over some zebra striped sleeves appeared on the screen. "First off, he's got kind of a Spider-Man look to it and on top of it, he's got the sleeves that go over the hand that you've got to put it into. I mean he had to work to get into this thing. But when you have to work that hard and you give appreciation to Slayer, I've got to give it to Russell, so keep shooting those shots and keep the fashion going." You can watch that interaction here.
While metal fans will remain indebted to Clayton for metal's turn in the sports spotlight, Clayton's professional career is also being saluted by sports fans and peers.
Clayton died Friday (March 18) at the age of 67 after a short illness. He had most recently tweeted on March 10 about the Seahawks trade of Russell Wilson and filed a report on what was next for the team as they started their rebuild.
The reporter started his career, spending over a decade with the Tacoma News Tribune before kicking off an over 20-year run at ESPN. After parting ways with the network in 2017, Clayton continued to report on the NFL for the Washington Post, as well as serving as a sideline reporter for the Seahawks. He also contributed stories for Denver's KKFN-FM over the past year as well.
"John was a pioneer as an NFL insider but also one of the kindest men you could ever work with,'' said Seth Markman, vice president and executive producer at ESPN, in the network's coverage of Clayton's death. "He literally never said no to a show that asked him to come on -- from 6 a.m. to midnight, if you asked for the Professor, he was there for you. I'll also personally remember how he loved and cared for his beloved wife Pat as she has battled multiple sclerosis. We will all miss John greatly.''
His distinguished career included receiving the Bill Nunn Memorial Award in 2007, presented by the Pro Football Writers of America for "a long and distinguished reporting in the field of pro football.'' He was also a longtime member of the Board of Selectors for the Pro Football Hall of Fame.
The Seattle-based reporter was survived by his wife Pat and sister Amy.
Rock on, John Clayton! Thanks for one of metal's most memorable commercial spotlights and a legendary career in the sports world.
Rockers We've Lost in 2022
Rock + Metal Musicians Who Died in 2022