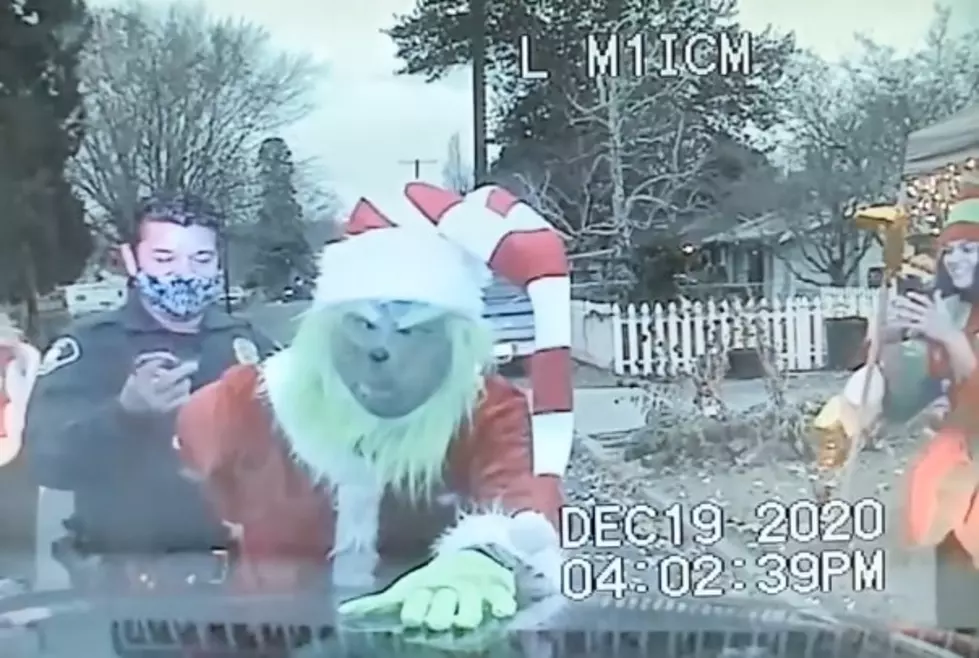 Yakima Police Department Arrest The Grinch [VIDEO]
Facebook/Yakima Police Department
In a post on their official Facebook page at approximately 12:30 p.m. on Christmas Eve, the Yakima Police Department (YPD) released a video that depicts an officer making an arrest of the notorious Grinch -- BEFORE he could steal Christmas 2020!

The timestamp on Officer Deloza's dashboard camera shows that the perpetrator was caught on Saturday, December 19th at 4:02 p.m. A number of elfish witnesses are also seen recording the incident with the camera on their mobile devices.
The caption on the video said:
"OH, THE WHO-MANITY
Finally fed up with the YakiWhos' Christmas, the Grinch concocts a plan to crush the Christmas spirit by stealing all of the presents, decorations and food while everyone is sleeping. He disguises himself as Santa Claus and dresses his dog Max as a reindeer, then descends into Yakima.
But wait! Officer Deloza spots a green, treacherous monster dressed in a red, jolly suit with a bag full of presents, decorations and food. An easy suspect identified as the GRINCH!
Alas, the Grinch was arrested without incident and the Christmas spirit was restored back to Yakima.
Wishing everyone a safe and healthy Christmas and wonderful holiday season!"
Thank you YPD for saving Christmas for Yakimaniacs and all the Whos in Whoville alike!
For more weird and Yakima news updates, simply opt-in for our "Alerts" via our free mobile app!

Enter your number to get our free mobile app
Merry Christmas and rock on! \m/ \m/
Todd E. Lyons, Esquire
TOP 10: The best holiday TV specials of all time, ranked
10 Stupid Washington State Laws