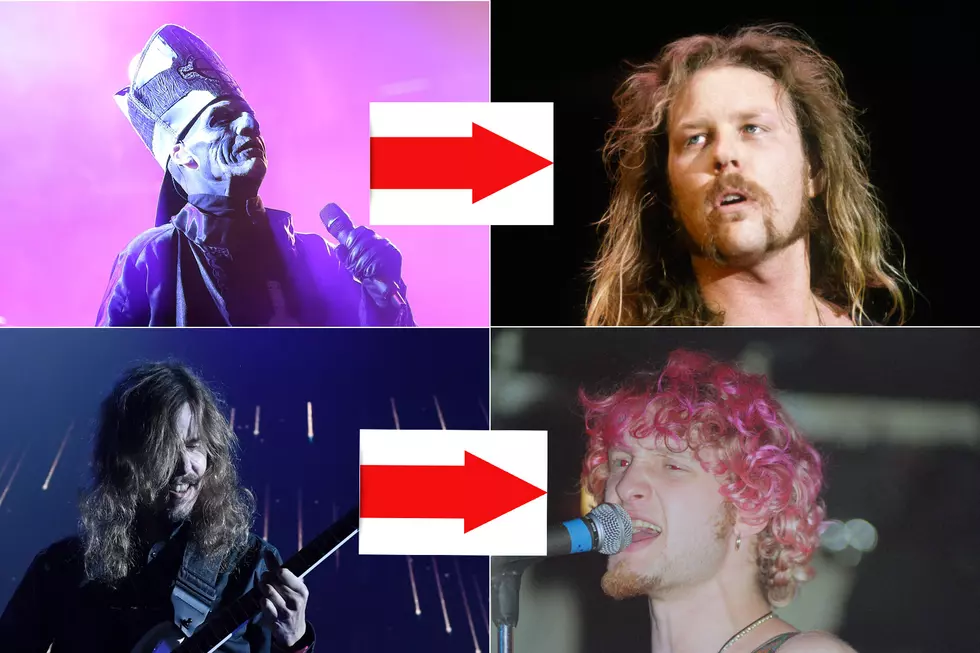 10 Bands Who Nailed Seemingly Impossible to Cover Rock + Metal Songs
Mark Metcalfe / Gie Knaeps / Ethan Miller / Brian Rasic, Getty Images
How dare you meddle with rock and metal perfection!
There are some songs that should never be covered, be it because they were done perfectly the first time or because that initial version is irrefutably synonymous with its creator.
Well, that's what many music fans believe, anyway. As usual, rules were meant to be broken, and that applies here, too.
Yes, many attempts to reimagine ostensibly untouchable compositions fail (just listen to Kayne West's butchering of "Bohemian Rhapsody" or Scissor Sisters' blasphemous revision of "Comfortably Numb").
That said, the following 10 tracks prove how feasible it is to do it well. We aren't saying that these versions are necessarily better than their predecessors; however, given how revered and definitive the originals became, these artists deserve applause for bravely and effectively giving it their all.
Vader, "Raining Blood"

Originally by Slayer

Slayer's tune is extremely fast and vicious, so it's a testament to the Polish death metal ensemble that they're able to up the ante on both fronts. Aside from replacing the recurring weather effects with piercing guitar feedback, their slightly shorter live variation – from 1994's Sothis EP – is quicker and nastier overall.

Frontman Piotr "Peter" Wiwczarek infuses every lyric with throaty vehemence while his bandmates launch into a relentless stampede of bestial impatience. Interestingly, they redid it for 2008's Lead Us!!! EP, wherein they added rainfall and polished the production. Neither outdoes Slayer's offering, but both are very respectable efforts.

Ghost, "Enter Sandman"

Originally by Metallica

Regardless of how divisive Metallica (aka The Black Album) is amongst Metallica fans, opener "Enter Sandman" is undeniably one of their biggest compositions. Thus, it took a lot of guts for the similarly polarizing Ghost to take a crack at it for 2021's The Metallica Blacklist.

Imaginatively, they convert it into a pious piano ballad before erupting into a fiery yet typically danceable, swanky and luscious performance. It's successfully compact, too, with an extraordinary compromise between faithfulness and idiosyncratic innovation. Although a few other acts – including Weezer, Juanes and Rina Sawayama – also copied "Enter Sandman" for the collection, Ghost topped them by a mile.

Sanctuary, "White Rabbit"

Originally by Jefferson Airplane

Jefferson Airplane's psych rock vibes are exceptionally far removed from Sanctuary's trash metal ethos. Of course, that didn't stop the latter band from tackling "White Rabbit" on 1988's Refuge Denied, and luckily, they pulled it off.

Lengthier than the original, its opening features the biggest surprise, as the anticipated harsher percussion and feistier guitar work are complemented by vocalist Warrel Dane's new preface ("Little Alice is on drugs again / They've bent her little mind").

Afterward, it's a commendably one-for-one copy complete with fittingly histrionic singing and biting instrumentation. Dane's final echoey chant ("She's dead") is a nice touch, too.

Amon Amarth, "Aerials"

Originally by System of a Down

The best covers often come when a band goes way beyond their wheelhouse, which is what Amon Amarth did with this iTunes edition bonus track for 2011's Surtur Rising. They immediately dove into gloomier territory via somewhat altered introductory arpeggios. Then, they filter SOAD's template into their emblematic melodic death metal exuberance.

Johan Hegg's guttural recital, alongside the persistently furious arrangement, leads to a less nuanced and heartrending result, but their dynamic anger is nonetheless enticing and praiseworthy. Best of all, their distinctiveness shines through, yielding a better option than merely doing an exact copy just to prove they can.

Type O Negative, "Black Sabbath (From the Satanic Perspective)"

Originally by Black Sabbath

The first album in the two-part Nativity in Black: A Tribute to Black Sabbath series is full of awesome adaptations, but Type O Negative's delivery of "Black Sabbath" is hard to beat.

Whereas the original is characteristically brooding yet calmingly hypnotic, the American troupe's embellishment is packed with trademark goth/doom metal graveness and playful strangeness. What's more – and as the title implies – they alter the lyrics significantly amidst cleverly alluding to Black Sabbath's narration. (For instance, "Big black shape with eyes of fire" becomes "I am the shadow - with the eyes, eyes of fire.") It's an ingenious reworking.

Ronnie James Dio + Yngwie Malmsteen, "Dream On"

Originally by Aerosmith

This one comes from 1999's Tribute to Aerosmith: Not the Same Old Song and Dance, and it mirrors their cut very closely (it even has an identical runtime). In fact, it's almost indistinguishable from the prior version at the start. It doesn't take long, however, for Malmsteen to leave his mark with some shredding before Dio kicks off the initial verse via his usual operatic coarseness.

From there, Malmsteen's six-string theatrics and Dio's stacked harmonies continue to add heft and individuality while collaborators Stu Hamm (bass), Gregg Bissonette (drums) and Paul Taylor (guitars/keyboards) ensure an impressively accurate and intense homage.

Death, "Painkiller"

Originally by Judas Priest

The closing track of Death's final studio album (1998's The Sound of Perseverance), "Painkiller" is essentially the group's swan song. As a remarkably precise emulation of the Judas Priest classic, it's quite an impressive way to cap off their legacy.

Sure, the singing is arguably a tad less shrill (and a tad more sinister), the absence of some production theatrics – such as a lack of dual vocals – makes it more straightforward and the flashy guitar work halfway in is marginally different. Nevertheless, it's a highly meticulous recreation that infuses enough of Death's DNA to fit alongside the rest of the record.

Avenged Sevenfold, "Wish You Were Here"

Originally by Pink Floyd

It'd be foolish to try outshining the warm perfection of Pink Floyd's "Wish You Were Here." Thankfully, Avenged Sevenfold's attempt – from 2016's The Stage – doesn't.

Instead, it radiates the affection and accuracy of a pluckier homage. Granted, they leave out the preliminary radio chatter of the 1975 rendition, and the percussion, vocals and mid-song guitar solo are a bit heavier, but virtually everything else is as loyal as possible.

Even the piano work is spot on, whereas the marching drums near the end provide a resourceful change. So, kudos to A7X for respectfully helping introduce Pink Floyd to a younger generation.

Opeth, "Would?"

Originally by Alice in Chains

Taken from 2008's "Burden" single and the Watershed sessions, Opeth's "Would?" is a lovingly devoted cover of the Alice in Chains staple. Naturally, it's more elegant and less, well, grungy, with frontman Mikael Åkerfeldt's angelically pained crooning serving as a nice contrast to the late Layne Staley's gruffer outline.

Moving onto the arrangement, it's correspondingly mellower (especially in regard to Martín Méndez's subtler bass playing), with revised guitar solos that lean toward the Swedes' signature gothic despair. Honestly, it wouldn't be wrong to prefer it over the original since Opeth does such a fine job making it their own.

Tool, "No Quarter"

Originally by Led Zeppelin

Led Zeppelin are one of the most celebrated – albeit controversial – classic rock acts, so pretty much everything they did is sacred. Considering how trippy, groovy and sublime "No Quarter" is, though, it's only logical that Tool put their spin on it.

Recorded during the Ænima sessions, it landed on 2000's Salival box set, and the significantly extended duration exudes the quartet's penchant for industrial psychedelia, alternative metal and the like. In particular, numerous lyrical alterations – in conjunction with plenty of proggy jamming and Maynard James Keenan's familiar ethereal tone – transform it into a mind-bending journey as only Tool could provide.