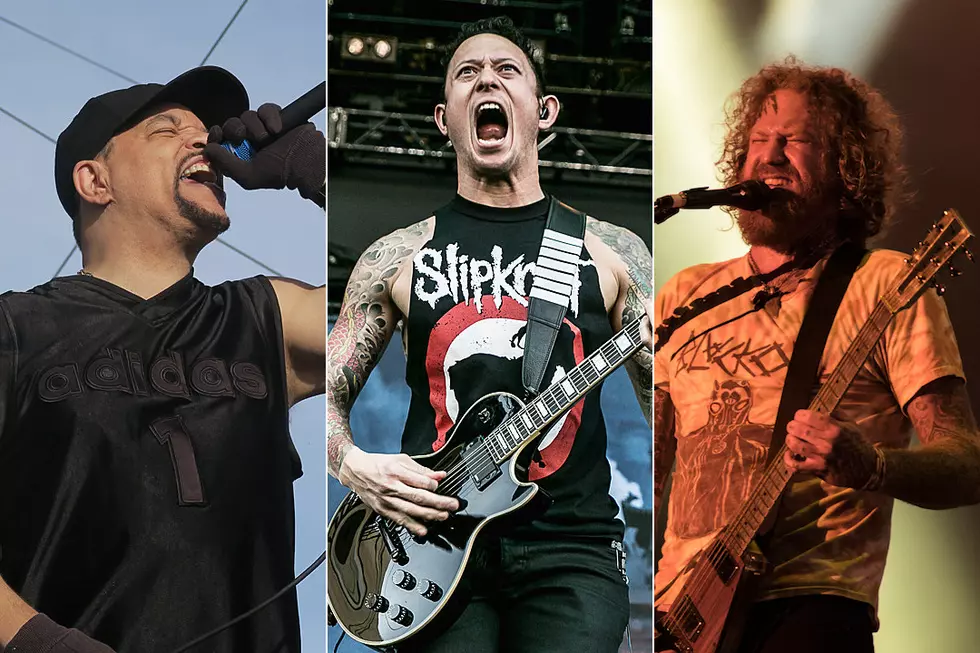 25 Best Metal Songs of 2017
Chad Childers, Loudwire / Kathy Flynn, WickedGoddessPhotography.com / Raphael Dias, Getty Images
Heavy metal showed no signs of slowing down in 2017. While many think of the genre as being more attuned for a longer, album format, metal brought a host of songs both long and compact that had a huge effect on the year.
A year that featured Body Count delivering an unflinching portrait of America for the underprivileged, Zeal & Ardor calling forth slave history to black metal and King Woman summoning an ocean of doom, 2017 was an excellent year for heavy metal, no matter where one stands. Head below to see the Top 25 Metal Songs of 2017, and see who took the No. 1 position.
25

"I'll Be Your Monster"

GWAR

We never thought GWAR could try to get cute and actually make it wholeheartedly convincing. Their reputation as a murderous group of marauding Scumdogs never wanes, but beneath the blood-stained war garments lies a group of alien overlords who can't help but have some fun. "I'll Be Your Monster" is a fairly innocent song about spooking kids, anchored by a bluesy, smirk-inducing, feel-good rock 'n' roll guitar lick — one of GWAR's all-time best, too. This song even has the potential to be the post-Dave Brockie era "Sick of You."

24

"Kiss of Death"

Mutoid Man

The only thing you should expect on a Mutoid Man song is some surefire-chaos, and "Kiss of Death" brings it. Harder guitar tones seem to be pulled from genre-bending acts like the Melvins, sometimes giving quick spikes of noise. These textures form around straight up rock n' roll music, which creates an excellent dynamic for the track. Riffs chug along, making it sound like a country-fried rock song from hell, able to satisfy a fan of something more extreme or straight up.

23

"Achingly Beautiful"

Cradle of Filth

Cradle of Filth are known for their theatrical, dramatic songwriting and "Achingly Beautiful" is a testament to this. Dani Filth's voice crosses with Lindsay Schoolcraft, giving the song a narrative power that courses throughout. The track has a story in mind, stopping the black metal riffage in order to deliver romantic keyboard heavy moments, starting back up into the destruction after the beauty.

22

Replacire's Do Not Deviate is really best listened to in full and it's recommended you inset a mouth guard before before hitting play. On the back half of the album is "Spider Song," which moves along in fleeting, calculated bursts of notes with scattering riff patterns and rolling snare fills. Replacire's approach to death metal is rhythmically imposing with highly technical stickwork, but they surprisingly dovetail into a gentler Akercocke-like mood with a sparing and well-timed clean vocal break before returning to their more bludgeoning state.

21

In some instances, doom metal is best reserved for long stretches, but sometime the concise route works the best. King Woman's "Deny" boils their doom down to a bite-sized chunk, heaviness shrouding the song's run-length. Singer Kristina Esfandiari's voice is an ocean to sink into, playing off of the rest of their sound to create an all-encompassing experience of loudness.

20

"Goddamn Trouble"

Overkill

For over 30 years, Overkill have been all business. Their New Jersey work ethic has yielded 18 studio albums since debuting in 1985 and The Grinding Wheel is the latest addition to the catalog for the green and black. "Goddamn Trouble" speaks to Overkill's street-born core and can be a bit hokey at times, but that's part of the charm. A lunging groove dominates this one with bounding string bends as Bobby Blitz muses about nighttime delinquency while mocking the speed limit, cruising along to some Deep Purple. "Ain't never gonna stop!"

19

"Pumpkins United"

Helloween

With the reunion concerts now underway, Helloween are indeed the "Pumpkins United." It's a wet dream for any Helloween fan as the group hasn't shed a member, but regained both singer Michael Kiske and co-founding guitarist Kai Hansen, who adds his familiar nasal-toned wail to the triple vocal attack. Germany's power metal Cerberus celebrated this union with one new song, which finds all the singers trading off lines and singing together in glorious harmony. Instrumentally, it's a timeless Helloween track with all the band's dynamics in play from freight train speed to neoclassical leads to the occasional cheeky moment. Now, how about a full album?

18

Florida death metal legends Obituary have a lock on what makes death metal as effective as possible. "Sentence Day" sounds like a legitimate portal into hell, the riffs dragging listeners down into fiery depths thanks to speed and great chord progression. Beyond a growly introduction verse, the riffing does the talking for most of the rest of the song, strumming out mind-bending solos that move in shape from brutality to an evil beauty. It's a quick, effective burner bound to satisfy any fan of the genre.

17

"Amateur Sketch"

Municipal Waste

Music being so accessible in the age of streaming makes it even easier for anybody to pretend to be a heavy metal "expert." Reciting facts and being a king punisher do not make someone the genre's biggest fan, as Municipal Waste's "Amateur Sketch" describes. It's a two-minute call out to all punishers and scene tourists. Their crossover thrash calls to mind Slayer in their prime, combining it with the punk rhythms they expertly attune to the sound. In a year of crossover thrash domination, Municipal Waste stake their flag.

16

"Remain Violent"

Warbringer

This year has been marked by social unrest around the world with a magnifying glass over the United States. Warbringer's "Remain Violent" is a response to the abuse of power among law enforcement, first taking the tone of an arresting officer and later encouraging people to stand up for their rights, playing off the "remain silent" line. The song's title may appear to preach a more hostile reaction, but frontman John Kevill assured us this wasn't the case. Warbringer keep "Remain Violent" strictly at a bouncy mid-tempo that's born for the pit and unleashing some frustration with the world today. That's what thrash was all about in the first place, right?

15

"Ashes of the Dawn"

DragonForce

DragonForce are power metal's modern day heroes. They've elevated the genre with unhinged speed, but on the Reaching Into Infinity cut "Ashes of the Dawn," the band dials back the guitar theatrics (except for the solos – come on, you didn't think they'd take a break entirely, did you?) and lean on a memorable chord progression and a simple, rhythmic vocal pattern, going back to the genre's basics. Instantly catchy, "Ashes of the Dawn" is one of DragonForce's best songs and will hopefully become a live staple in the years to come.

14

"Code of the Slashers"

Cannibal Corpse

Putting on a Cannibal Corpse song is a binding contract that you're about to listen to something feverishly heavy. "Code of the Slashers" is a ripper to be proud of, imbuing their death metal with moments of doom that don't distract from the larger whole. They're still kings of the riff, able to string together guitar hooks that will stick into your brain long after you've heard them. Add on top of that a solo that sounds like a call for apocalypse on earth, with end times coming as a thunderous breakdown and you have one of the year's singular best.

13

"Portrait of a Headless Man"

Septicflesh

Septicflesh are one of extreme metal's most brilliant bands, implementing the true fusion of horror-driven orchestration and bludgeoning, bionic death metal. "Portrait of a Headless Man" comes off the Greek act's Codex Omega album and features a mechanized imperial groove used as the jumping off point for ethereal call and response moments and more urgent, foreboding overtones. It's one of Septicflesh's more chaotic tracks and in their distorted, nightmarish world that's all we want.

12

One of black metal's most striking qualities is how it can become malleable enough to incorporate all different textures of sound. Enslaved's "Storm Son" defines this quite handily. The song opens with a subtle introduction of melody and guitar chords ringing out over vaguely threatening noise in the background. Instrumentals shift into black metal, keeping the melody for a moment before letting things get heavy. The black metal riffs and blast beats come into full effect, feeling as much like an emotional affectation as something stirring and aggressive.

11

"Return to the Abyss"

Suffocation

Suffocation's lineup has been a revolving door in recent years and they've managed to maintain an unprecedented level of precision and vacuum-sealed tightness. With some young blood in the group by way of a new drummer and guitarist, the New York legends emerged with an album that upholds the group's legacy. "Return to the Abyss" opens with an Earth-chewing rhythm, sliding into some thrashier grooves reminiscent of Suffocation's oldest tracks, but there's new styles heard here like the fluttering melody over a breakdown and the clean-toned guitars that help "Return to the Abyss" fade out, presumably to… the abyss.

10

"I Can Tell You About Pain"

Converge

A flurry of anger and speed under two minutes and a half, Converge make a mission statement for The Dusk in Us on "I Can Tell You About Pain." Returning over time to an iterative riff, Converge employ technicality in an angular way, restarting the tempo of the song for sharp bursts of intensity when they need it. It holds the frenetic energy of much of Converge's latter career output, working in short breaths of singer Jacob Bannon calling out before returning to screamed vocals. The song ends in a breakdown of noise and fury, putting pain to sound, crushing everything in its way.

9

"The Sin and The Sentence"

Trivium

Trivium aren't a band one should really doubt, but in case there are non-believers, "The Sin and the Sentence" is a song to right one's wrongs. The song crashes to a start with a super technical guitar riff, before slowing down for Matt Heafy's vocal presence to take over. The rest of the song cranks out straight-up heavy metal goodness, at times letting more pop-focused moments take the center stage. Heaviness is still front and center, with the song doubling down on solos near the tail end of the song for a complete dosage of grit.

8

"Die With Integrity"

Dying Fetus

Wrong One to Fuck With is being hailed as a defining album for Dying Fetus. One of the hallmarks of their classic records that's heard on standouts like "Die With Integrity" is the willingness to never lose sight of a hook, be it pit-stirring slams, melodies hidden within their technical moments or through call and response between John Gallagher's bowel churning growl and John Beasley soul-eviscerating highs. "Die With Integrity" is maniacal in its arrangement, unpredictable from turn to turn, driving you back with musclebound breakdowns and slingshotting you forward with technical fury.

7

"No Lives Matter"

by Body Count

From the jump, Ice-T doesn't want listeners to get anything twisted when it comes to the title of Body Count's "No Lives Matter." This isn't some lame reaction against the realness of the Black Lives Matter movement, but instead a shifting of directions to make listeners realize that to those in control of wealth and power in the country, absolutely no one matters. In this realization, Ice urges all to unify against those that want to keep people down. It's incendiary, forward thinking and a song that defines the larger cultural landscape of 2017 with the power of heavy metal.

6

Mastodon are enjoying a career year with their newest album, Emperor of Sand. The Georgia quartet are an infinitely fascinating bunch with each member drawing from their own personal music background, converging to produce a genre-defying sound. "Sultan's Curse" is a mystical opening to Mastodon's latest concept record, initiating the journey with the left-to-right panning bells. The track serves as an overture for Emperor of Sand, with the adventure-seeking voice of Troy Sanders presenting itself first. There's cosmic thought with Brent Hinds shamanic emanations and a reflective catharsis to Brann Dailor's soaring cleans. Riff wise, Bill Kelliher holds it down with another one of his signature beast-riding licks.

5

"Devil Is Fine"

Zeal & Ardor

If one song strikes at the heart of what Zeal & Ardor strives to do, it's "Devil Is Fine." Opening with a chain gang chant, the song takes its time in building up tension and mood. Battling chants of "devil is fine" flow over sparse drum beats, eventually working their way up to ascendent guitar riffs. The vocals sound out of time, a shocking presence throughout the music, and yet one full of beauty and a strange encouragement. It takes metal somewhere it has never been, offering up iteration quite cleanly.

4

"Executioner's Tax (Swing of the Axe)"

Power Trip

Power Trip have outright dominated 2017 with their sophomore album, Nightmare Logic, and devastating live performances. They've got the whole metal world transported back to the late '80s with their hardcore-enthused thrash and bird-flipping mentality. It's best exemplified on "Executioner's Tax (Swing of the Axe)," a fat-trimmed mid-tempo juggernaut with the vocal venom that emboldens disenfranchisement within society, scathingly attacking the greedy power structures while the rest of Power Trip tear it down with elbow-swinging riffs and quivering whammy dives.

3

"The Longest Winter"

Paradise Lost

In recent years Paradise Lost have resurrected their more classic death / doom form and crafted modern day genre classics, the latest being Medusa. This style routinely presents something deep and interesting, able to leverage atmosphere a bit more than other genres. "The Longest Winter," true to its title, feels exhaustedly drawn out, despite its sub five minute runtime as new drummer Waltteri Väyrynen channels his inner Vinny Appice with restrained, boulder-pushing might. The water-drenched leads counter the cement-encased tones while Nick Holmes confidently strolls in his enunciated, crisp cleans and plague-bringing guttural howls.

2

"I Saw the End"

Pallbearer

Pallbearer's album opening "I Saw the End" at its best sounds like a palpable form of dark magic. It works in prog and sludge with equal measure, the band carrying themselves with the same kind of mysticism as bands of yesteryear did. It's a hazy odyssey, at some points being catchy and a distilled form of rock. It's some of their cleanest material to date, and while for many bands that would come as a detriment, here it works as something that elevates their material to beyond the realm of heavy metal.

1

If one phrase sums up the landscape of heavy metal in 2017, it's "Code Orange, is forever." The runaway success they've encountered, beginning with excellent support slots on high profile tours and ending with a career-legitimizing Grammy nomination, can all be summed up on the title track to their 2017 album Forever. It opens with an an aim at the holy, the promise of "I'll burn my gods down" leads an arresting beginning breakdown. The song boils down the genius of Code Orange's songwriting, able to blend the complicated and headier with the absolute primal. Spouts of electronic noise force the listener to slow down, and then speeds back to focus thanks to a dissonant riff. With a wrestler's confidence, they tell you they are forever, and then pummel using an earth cracking breakdown. Code Orange want the world to be their own, and to destroy it in their image.