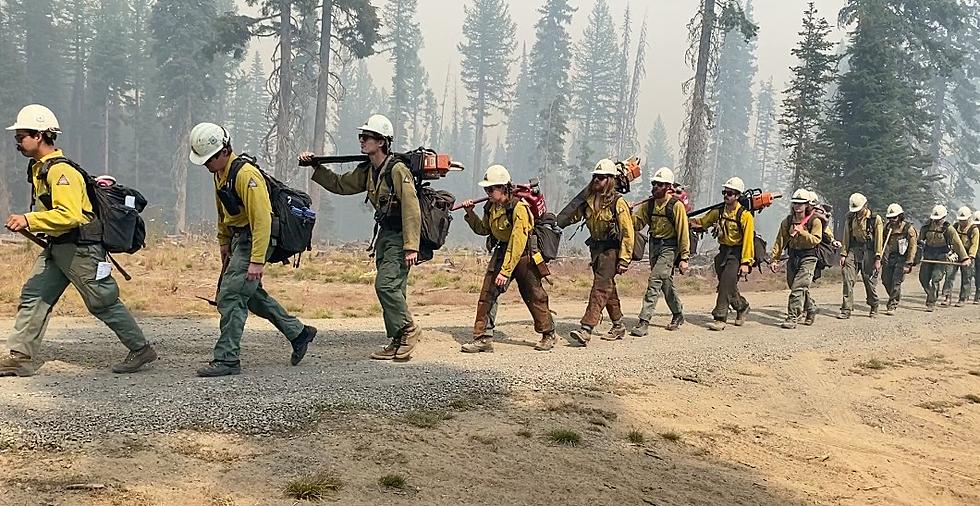 Full Containment Set for October 1 But The Fight Continues Until Then
Schneider Springs Fire Facebook page
Firefighters are busy trying to contain the growing Schneider Springs Fire. The fire is now at 17% containment. Officials with the Okanogan-Wenatchee National Forest say the fire grew from 97,288 acres on Wednesday to 99,398 acres Thursday.
TEMPS AND WINDS MODERATING TODAY COULD HELP FIREFIGHTERS
Firefighters are hoping for full containment by October 1 but the fight continues until that date. They say winds were a big factor in fighting the fire on Wednesday today winds and temperatures are expected to moderate which may help in the battle against the blaze.
Firefighters say they're focused on completing control lines along the northern edges of the fire to reduce the threat to nearby communities in light of the increased fire activity that they saw on Wednesday. They'll continue to protect the Bumping Lake corridor keeping fire away from the road.
CREWS ARE WORKING TO MAKE CONTAINMENT LINES STRONGER
A press release says "firefighters on Thursday are expected to resume firing operations along Forest Road 1706 and 1709 after a pause Wednesday because of unfavorable conditions. Crews and heavy equipment will continue mopping up along the southern perimeter of the fire to increase containment while continuing to patrol areas of the fire that are contained."
EVACUATION LEVELS CHANGED ON WEDNESDAY AFTERNOON
Evacuation levels have changed;
LEVEL 3: Bumping River Road from north to south; Hwy 410 corridor between Little Naches and Rock Creek; LEVEL 2: Hwy 410 between Little Naches and Wash Creek; LEVEL 1: Hwy 410 from Bumping River Road to U.S. Route 12, and from U.S. 12 at Hwy 410 west to Tieton Reservoir Road. Yakima County Office of Emergency Management's official Facebook page: https://www.facebook.com/YakimaCountyOEM.
CLOSURES ARE IN PLACE BECAUSE OF THE FIRE
A fire area closure order for National Forest System lands on the Naches Ranger District is in effect. The closure order and map are available at https://go.usa.gov/xMcuX. There is also a temporary closure of all Washington Department of Natural Resources managed lands in the fire area. Learn more: https://www.dnr.wa.gov/dnr-closure-eastern-2021
716 people and resources are working the fire with 18 hand crews, 35 engines, 7 dozers, 8 aircraft and 27 other pieces of heavy equipment.
While firefighters are hoping the fire will be doused sooner than later they are pushing for an October 1 goal of fully containing the fire on that day.
LOOK: The least obedient dog breeds
KEEP LOOKING: See What 50 of America's Most 'Pupular' Dog Breeds Look Like as Puppies