The Conjuring 3! Coming Monday To The Wheel Of Goodness!
Warner Bros.
You might be asking yourself, "What is the Wheel of Goodness"? Well, it's a wheel that you can spin every weekday morning, to win a prize. We've had many prizes on the wheel. Everything from food, event tickets, comics, mannequin heads, and a fan favorite... MOVIES! The Wheel of Goodness is kept safe by Todd & Timmy, and starting Monday (8/23), the W.O.G. is getting a bit spooky courtesy of Warner Bros. with The Conjuring 3: The Devil Made Me Do It!
THE TERRIFYING CONJURING UNIVERSE CONTINUES! ED AND LORRAINE WARREN ARE BACK, UNRAVELING THEIR MOST SINISTER CASE YET. BASED ON A TRUE STORY, PREPARE YOURSELF FOR "THE CONJURING: THE DEVIL MADE ME DO IT" OWN IT NOW ON DIGITAL AND BLU-RAY™

 

The Conjuring series is taken from the files of demonologists Ed and Lorraine Warren. & this third entry deals with a real murder case that happened in the 1980's. What is super interesting about this story, is that it actually marks the first time in US history that a murder suspect would claim demonic possession as a defense in court. If you're a fan of the paranormal and horror movies, you don't want to miss this film!
How Can You Win A Digital Download of The Conjuring 3: The Devil Made Me Do It?
This scary good time can be yours starting Monday Morning with the Todd & Timmy Show! Around 7:20a every weekday morning they give you the chance to "Spin & Win", to get your "Morning Tug On", to call in and score a prize! It's the Wheel of Goodness, also known as the W.O.G. and it's been a great way to score our listeners some awesome prizes! When you hear your cue, just be the first to call in at (509) 972-KATS (5287), get a grip and give a rip! It's just that easy! (Prize stock is limited).
What if you don't want the movie NOW & can't wait for your chance to Spin & Win?
If you don't want to risk not winning with Todd & Timmy, you can purchase The Conjuring 3: The Devil Made Me Do It now on  DIGITAL & 4K ULTRA HD™! More details check out Warner Bros. Official The Conjuring 3: The Devil Made Me Do It page or check it out at Facebook.com/TheConjuringMovie.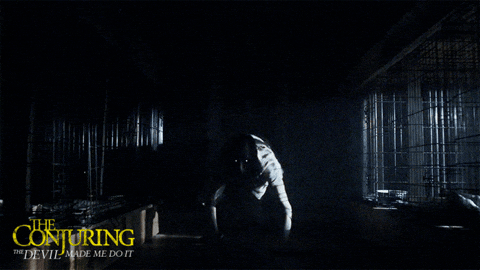 Celebs Share Their Personal Paranormal Stories
Lizzie Borden's Maplecroft Is Back on the Market in Fall River, Massachusetts