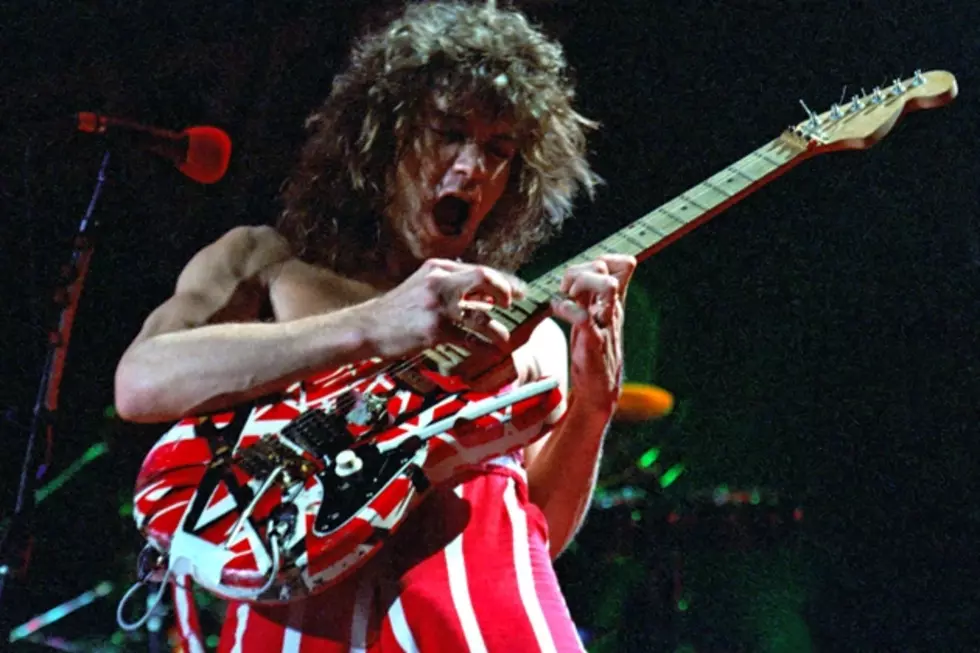 Top 10 Eddie Van Halen Guitar Solos
Larry Marano, Getty Images
Guitar wunderkind Eddie Van Halen was undoubtedly one of the most important rock musicians of the late 20th century.
Beginning with Van Halen's 1978 debut, he virtually single-handedly re-invented the entire rock guitar lexicon with his blend of tone, technique and sheer musicality. The legendary axeman was most celebrated for his hard rock influence – especially his two-handed approach to "fingertapping," a technique in which Van Halen used the fingers of his right hand to fret notes on the neck of the guitar, which allowed him to phrase passages very rapidly without the limitations of a pick.
He was also an exceptional rhythm player and songwriter whose playing encompasses a wide range of styles -- as we'll see in our list of the Top 10 Eddie Van Halen Guitar Solos.
10

"Spanish Fly"

From: 'Van Halen II' (1979)

Though Van Halen was generally acknowledged as one of modern hard rock's most important stylists, "Spanish Fly" was a notable example of his other musical interests. Performed in a single, uninterrupted take on a nylon string acoustic guitar, the instrumental track from Van Halen's second album translated the guitarist's signature fingertapping style to an acoustic – a feat made much more difficult by the fact that an acoustic guitar lacks the inherent sustain of an electric. That alone makes it one of the Top 10 Eddie Van Halen Guitar Solos.

9

"Mean Street"

From: 'Fair Warning' (1981)

Fair Warning was a turn in a darker direction for Van Halen, who were best known as one of the greatest party-anthem bands in the history of rock music. But while the music was certainly nastier and darker than some of their other efforts, it featured no shortage of great guitar tracks. Chief among them was the lead-off track "Mean Street," whose solo was a master class in Van Halen's techniques with its legato phrasing, pick harmonic squeals, slurred passages and whammy bar phrases.

8

"Dance the Night Away"

From: 'Van Halen II' (1979)

"Dance the Night Away" was a turn in a slightly different direction for Van Halen, with a looser groove and a genuine pop chorus. Eddie's strong sense of both rhythm guitar and songcraft were both on abundant display here. The track wouldn't have been served by some blazing display of instrumental pyrotechnics, so the ever-inventive guitarist instead constructed an unusual "chiming" solo consisting of arpeggiated harmonics.

7

"Runnin' With the Devil"

From: 'Van Halen' (1978)

The first song on side one of Van Halen's epic debut album, "Runnin' With the Devil" announced the arrival of one of hard rock's greatest bands with the musical equivalent of a beating in a deserted alley. Though the song's chord progression was super heavy, Van Halen contributed a simple, lyrical solo, demonstrating that just because you're capable of playing a huge flurry of rapid notes, it doesn't mean you have to.

6

"Jump"

From: '1984' (1984)

"Jump" heralded a musical change for Van Halen with its opening synthesizer riff. The song was contentious within the band for its change of direction, and some hard rock fans were initially confused by it, too. But the guitar solo was one of Van Halen's finest moments, performed over the top of a strange breakdown and going off into an almost fusion-like passage before bringing it back to tie in perfectly with the song's instrumental bridge.

5

"Ice Cream Man"

From: 'Van Halen' (1978)

"Ice Cream Man" was undoubtedly one of the coolest tracks Van Halen ever recorded. Starting off as a simple acoustic blues, halfway through Eddie suddenly barged in with huge power chords, then proceeded to use the second half of the song as a showcase for almost every conceivable kind of guitar playing he's capable of. There were some straight blues licks, but they're interspersed with extremely rapid pick articulation, tapping, tapped slides and tapped bends, and whammy bar pyrotechnics for a solo that could have only come from the maestro himself.

4

"Cathedral"

From: 'Diver Down' (1982)

Aside from being a monster shredder, Van Halen was a guitarist who pioneered a lot of technical tricks involving using effects and physical manipulation of the equipment to produce sounds that guitars simply don't normally make. "Cathedral" was a prime example in which the guitarist used echo effects and the volume knob on his guitar to produce a shimmering classical effect like an electric Bach fugue, undeniably making it one of the Top 10 Eddie Van Halen Guitar Solos.

3

"Hot for Teacher"

From: '1984' (1984)

Van Halen didn't have to rely on two-handed tapping to articulate notes rapidly and cleanly, as evidenced by "Hot for Teacher." The solo was a crazy barrage of notes mixed with short bursts of melodic phrasing, all displaying the guitarist's unusual sense of timing. "I winged that one," Van Halen told Guitar World. "If you listen to it, the timing changes in the middle of nowhere." The song's unforgettable video featured Eddie performing the solo while walking along a long library table.

2

"Beat It"

From: Michael Jackson, 'Thriller' (1982)

A collaboration between Michael Jackson and Eddie Van Halen seemed incredibly unlikely on the face of it, but as it turned out, the guitarist's solo on "Beat It" garnered him arguably the widest mainstream exposure of his entire career. He performed it free of charge, helping the track become a No. 1 hit. The solo was unmitigated Van Halen, with incredibly intricate fingertapping phrases, whammy bar dives and screaming pick harmonics married to a sense of melody.

1

"Eruption"

From: 'Van Halen' (1978)

Modern rock guitar playing can be divided into two main periods: B.E. (Before "Eruption") and A.E. (After "Eruption"). It would be virtually impossible to overstate the influence of the piece, which popularized two-handed tapping and inspired generations of imitators. The instrumental was an amalgam of all of Van Halen's groundbreaking techniques, quoting from classical etudes and featuring rapid flutter picking, jaw-dropping fingertapping runs, echo and harmonic effects. Ironically, Eddie was dissatisfied with his performance, feeling he could have done it better.