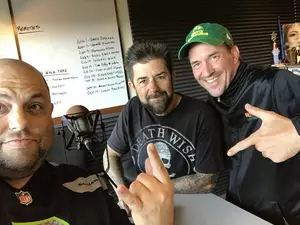 Rachtman Rocks With KATS FM
Riki Rachtman with Todd & Hendo
"Racing Rocks" is an awesome show we air on Sunday mornings from 8-10, hosted by former MTV VJ and "Headbangers Ball" host Riki Rachtman!
Rachtman was riding through the state and recorded this weekend's show from the KATS studios.
Rachtman stopped by and talked about racing, MTV and more with Todd and Hendo this morning (Aug. 1).
"No matter where I go, everyone always asks me about the Dave Mustaine interviews," Rachtman said.
Thanks, Riki, for stopping by!