5 Places To Perfect Your Shooting Skills Around Yakima
Canva
We live in the Pacific Northwest, so it's not uncommon for us to do and practice things that you would expect to be done in the Pacific Northwest. One of the big things that is a staple in our neck of the woods is hunting. Even though one side of our state might not be as passionate as the other, it's an important and time honored tradition.
Now let me just state before I start getting the hate email. I'm not a big fan of trophy hunting. If you eat what you kill, or are having to kill in order to save something else, that's a different story. I do have family members that have had their kills sent to the taxidermist, but they did eat the meat, so the animal did more than just stand there meant to impress someone. When it comes to firearms, I just want people to be safe. Also, so you don't end up in the news like the Yakima man who shot is fridge thinking he was under attack.
Where Can You Hone Your Hunting Skills?
In my searching, I've found a few places that you can go and practice your shot. That way no matter if it's for protection or hunting, you're more likely to be successful and SAFE! Some are free, some are not and some offer memberships. Click their individual links for more info on each of the places. Here's what I found, in no particular order.
Yakima Valley Sportsmen's Association
Also known as the "Pomona Gun Club", you can check this place out on E. Pomona Rd. in Selah.
L.T. Murray
Is part of the Washington Department of Fish and Wildlife out past Selah. They have a pretty awesome set up meant for simple target practicing as well as clay pigeon shooting.
The Range
Most people know of The Range located at 1701 Garretson Ln. in Yakima. It's a great shooting range where you can practice, rent and even purchase whatever you need.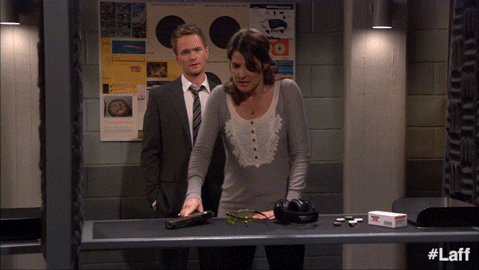 Giphy.com
Sun Valley Shooting Park
This shooting range is located out in Moxee, and offers a 300 acre outdoor shooting range.
Kittitas Valley Rifle & Pistol Club
If you're in the Ellensburg area, you might want to head to 608 W 15th Ave to check them out.
If you know of a spot that should be on our list, let us know! Tap the App and send us a message. Thank you and be safe out there.

Now that you know where to practice, find out which states have the most registered hunters.
Stacker
analyzed data from the U.S. Fish and Wildlife Service to determine which states have the most registered hunters. Read on to see how your state ranks on Stacker's list.
How Many in America: From Guns to Ghost Towns
Can you take a guess as to how many public schools are in the U.S.? Do you have any clue as to how many billionaires might be residing there? Read on to find out—and learn a thing or two about each of these selection's cultural significance and legacy along the way.