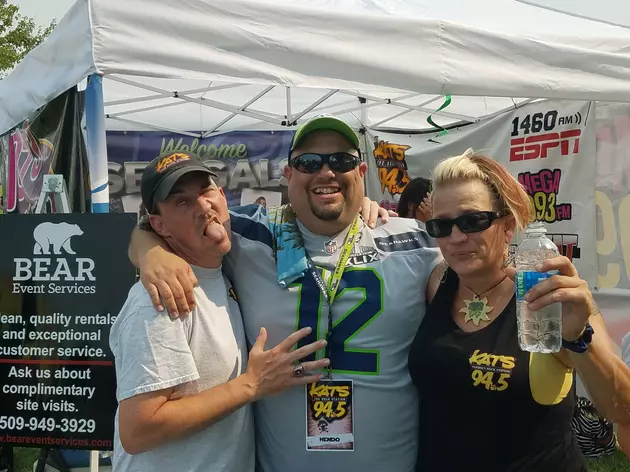 Todd's Take: My View of the 2017 Moxee Hop Fest [PHOTOS]
TSM
Another Moxee Hop Fest is in the books and I lived to tell!

Friday night, the beer garden was slammed and local favorites, The Shreds, once again pleased the crowd, along with a fantastic fireworks display, with their mix of classic rock 'n roll.
Saturday's festivities kicked off with the annual parade at 10 a.m. and I was glad to once again co-announce the event with "Mr. Moxee" Al Benny. Before the parade, however, a number of participants were taking part in the 5K Fun Run/Walk. My son, Drew, and his buddy Colton - who had spent the previous night at our house - hatched the idea to enter the race. Mind you, neither had ever run in a 5K (3.1 miles) race but they were both determined. Lo and behold, they both finished and Drew, 12, came in first place in his age bracket (11-14 year-olds) and 31st overall!
After the parade, we headed to the park to get ready for the appearance of the Seattle Seahawks cheerleaders, the Sea Gals. Ashley and Kelsey couldn't have been more gracious with the crowd, despite the lengthy line and the hot temperature!
As soon as their appearance concluded, Hendo and I headed to the beer garden to help host the Beer Garden Olympics for a shot at free tickets to Wednesday night's Metallica concert in Seattle. Vince Urritia was the winner and will be headed on our party bus to the show!
Meanwhile, my wife was busy helping man one of the many games in the kid's area so I went to relieve her for a spell. It was a lot of fun playing carnival-style games with the kids and all of their parents who were very grateful and kind. Thanks to the East Valley Community Enhancement Association for allowing us the opportunity to help and to raise funds for my son's tournament baseball team, the East Valley Hops!
Finally, it was back to the beer garden to meet up with some old friends who were in town (and, of course, bump in to many friends also in attendance). I have never, in all the years I have attended this annual event, seen a line to get in as long as there was on Saturday night! The Danny Austin Band opened up the entertainment for the evening and then Ten Souljers played three hit-filled sets as party-goers danced the into the wee hours of Sunday morning.
Every year I don't think it can be topped and every year I'm wrong!