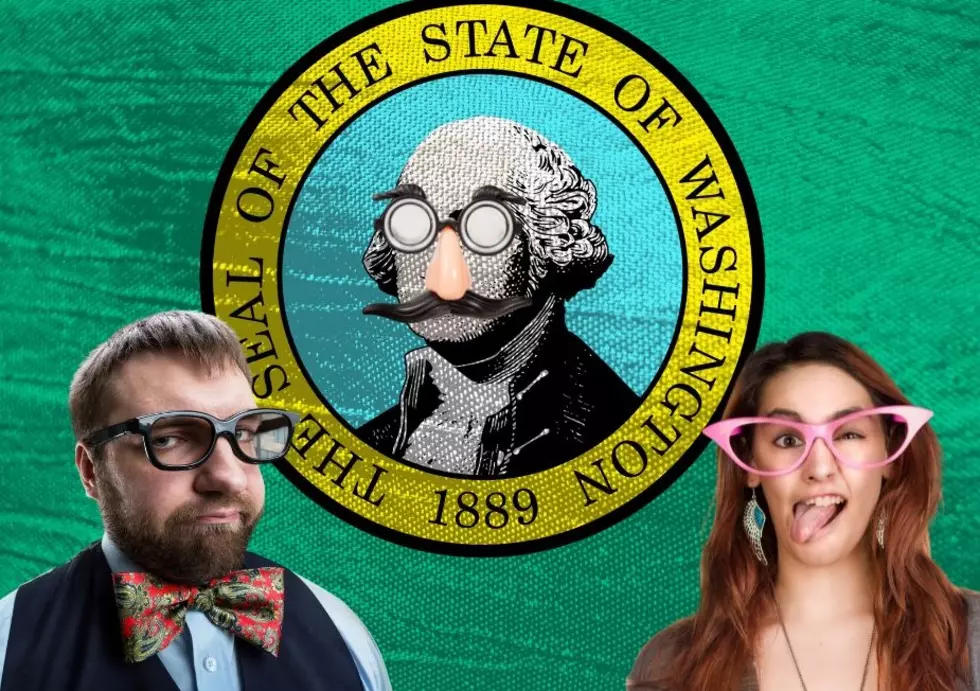 Find Out The Top 5 Weirdest Cities of Washington
Yakima Dme Canva
The Pacific North West and Weird go together like peanut butter and jelly, chocolate and peanut butter, I think you get just. So we did a deep dive into the news and found the top five weirdest cities in all of Washington.
Usually when you think weird and PNW you think of Portland Oregon, but what if I told you we had cities that could compete with just how weird Portland and all of Oregon are? You'll have to check out the list below and let us know what you think, do we have any top contenders?

5.) Ocean Shores
We absolutely love Ocean Shores, it's in our top five favorite vacation spots, but that doesn't mean it isn't weird. They're proud to be weird tho, with shops dedicated to the decor of ocean life one gift shop literally has a giant shark head with the mouth as the entrance. You can buy licensed big foot clothing that will help "spread awareness" of the Bigfoot community that lives in Washington.
4.) Port Orchard 
Port Orchard has gorgeous views and a view of the mountain that looks like it's from a postcard, but they get just as weird. No, they don't use recycled hair for grocery bags, however, they do have a plethora of hobbit homes around the city. That's right, people in Port Orchard loved Lord of the Rings so much that they built in-the-ground hobbit homes that people can actually rent out on Air B&B. These tiny homes are fit for hobbits or anyone looking to live out their wildest fantasies as a Hobbit.
3.) Longview
Believe it or not, one of Green Day's biggest hits was named after this city after playing a show here, but that's not what makes them weird. No, they're more like that strange lady at the end of the road that not only feeds but houses the neighborhood squirrels.
Whether they think it or not having a Squirrel bridge is just a little too weird for others' taste. Here's the funny thing, they built a tiny bridge for squirrels to use to cross the road safely, they even have a sign saying "watch out for falling squirrels." The strangest thing is that they used tax dollars to build it.
2.) Tacoma
Tacoma gets a bad rap, but is it because they're too weird? Tacoma is home to a lot of strange but awesome businesses. However, some would say it's the weird smell of Tacoma that makes it one of the weirdest cities, Washingtonians know it as the "Tacoma Aroma."
That's not the only reason they made the list though, they are also home to the largest Glass museum, largest car museum, and an actual Sanford and Sons boutique inspired by the show Sanford and son. Where Tacoma is weird it's also one of the more adventurous cities in Washington.
1.) Seattle
I don't think it's possible to get more weird than Seattle, home to the Freemont Troll this is just the start of how weird it is. Underneath the Freemont bridge lives a giant stone Troll, crushing a 70s Volkswagon bug. People travel from all over the world to get their pictures taken with it. Seattle is also home to the infamous Gum Wall that stretches down the alley right next to Pike Place Market. People once again, travel from all over the world to place their gum onto the wall.
Some actually will take a piece (Before you ask, no we don't know why.) If that wasn't weird enough then you should check out the Seattle Underground. After a horrible fire that destroyed over 30 blocks, the city decided to rebuild, instead of tearing everything down they decided to build on top of the foundation. They still give tours of the underground Seattle and even talk to some of the so-called ghosts that live there.
LOOK: Famous Historic Homes in Every State
What Are the Signature Drinks From Every State?