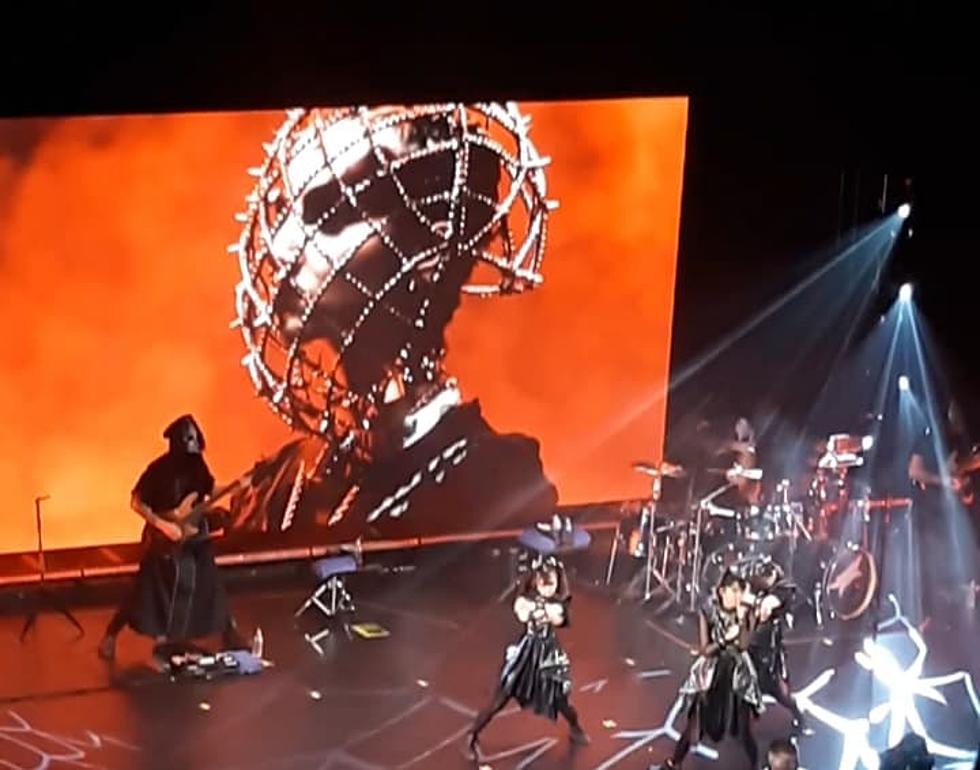 Concert Report: Babymetal in Seattle (PHOTOS)
Pic by Nathan Seibert
Babymetal is one of those bands. You either like them, or you hate them. Perhaps you secretly like them and trash talk others who like them to make yourself seem more metal. Well, they might not be my cup of tea, but if something brings you joy, and it doesn't hurt anyone, hell yeah, love it and be happy. When my friend Nathan Seibert posted about how he was going to their concert in Seattle at the Paramount on Oct. 16, instead of teasing him, I asked him to give me a concert report and tell me what they bring to the stage. Well, I must say, after what Rob Zombie said about the band, and Nathan's tale, I might have to check them out one day ... wearing a disguise. Here's Nathan's concert report:
      Babymetal is a Japanese metal band that mixes heavy  instrumentation with J-pop to create what they call "kawaii metal," and I've been a fan since 2014, when my dad showed me the "Gimme Chocolate" video. Initially it was hilarious, but after I listened to their first album, I became hooked. So when my wife surprised me with tickets to see them at the Paramount Theater in Seattle, it was not only a check off my bucket list, but a dream come true. I was shocked at the line of people that stretched down the block and curved around the corner and over the bridge. All sorts of people came to see them perform, from heavy metal fans to cos players in maid outfits and cat ears, and even a few middle-aged couples mixed in with us. As the band opened up with "Megitsune," each member stood near the back of the stage wearing masks. This is to give enough room for the center of the performance, which is the three young ladies who march out and take their place at center stage. Suzuka Nakamoto, Su-metal, is the lead singer and dancer, while Moa Kikuchi, Moametal, and a backup dancer that they call an "Avenger," will dance a routine for each song.

 

       It was amazing to be surrounded with such high energy coming off from not only the band, but the audience as well. From the moment they began they gave it their all, never missing a single beat, and the best part was that you could tell they were having fun. We all were, headbanging and screaming, and singing along when prompted by Su-metal. No one was disruptive apart from the occasional crowd-surfer, and I swear that one guy tried to throw his boxers on stage. But the band never stopped for a single second.

 

     A lot of people ask me if I understand what they are saying, to which I honestly answer, "Not a clue." But I don't need to understand to rock out. It's the purest form of music to me. I'm not swayed by their lyrics, but by the very music that they play and scream and dance to. It was a night that I won't forget.
- Nathan Seibert
When I asked him, what the one thing the band did that blew him away, he responded:
During the song "The One," which is sung entirely in English, she asked everyone in the audience to turn on their phone lights. It illuminated the entire theater. I went on YouTube and looked at quite a few more videos of them doing that same song, and found out that we were the only concert where she told the audience to turn their lights on. That's really cool to me.
- Nathan Seibert
Check out a few pictures that Nathan captured in the gallery below.
Baby Metal Seattle