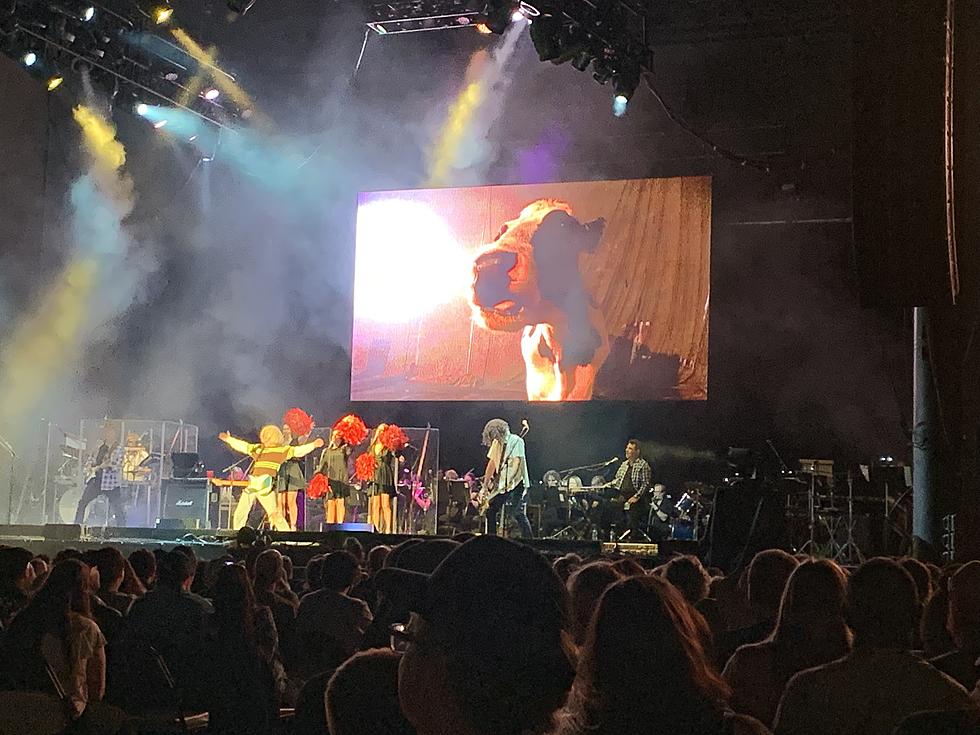 Concert Report: 'Weird Al' in Airway Heights! [PHOTOS]
TSM/Timmy
First, let me give a big THANK YOU to my amazing wife and in-laws for buying me tickets to see "Weird Al" Yankovic as a Christmas present last year. Yes, I've been looking forward to this concert for over eight months!
I was not disappointed. I also must say, my tickets were great, and this is the second-loudest concert I've ever been to. Topped only by a Metallica with Godsmack show in the Tacoma Dome. Kudos to the sound people at Northern Quest Casino Amphitheater in Airway Heights. It was loud!
On this tour titled "Strings Attached," Al is performing with local orchestras & symphonies at each of his stops. For this show he enlisted the talents of Arnie Roth and his 41-piece orchestra, who kicked off the show with a John Williams musical trilogy (Raiders of the Lost Ark, Superman & a selection from Star Wars). They were in top form and sounded amazing!
After a short intermission, the orchestra picked back up, starting the show with Beethoven and segueing into Al's instrumental from the UHF film soundtrack "Fun Zone." Hearing that done with an orchestra was awesome! During the song the band -- bassist Steve Jay, pianist Rubén Valtierra, Jim "Kimo" West (who walked right by me in the casino) & birthday boy Jon "Bermuda" Schwartz -- came out and started performing with the orchestra, followed by, for the first time on a "Weird Al" tour, Al's backup singers, Lisa Popeil, Monique Donnelly and Scottie Haskell. Al came out to thunderous applause and kicked off the show, the way he ended last year's "Ridiculously self-indulgent ill-advised vanity tour" by playing an alternate version (jazzy) medley of I Lost on Jeopardy/I Love Rocky Road/Like a Surgeon. He lovingly poked fun at Airway Heights by questioning how it was his hometown and mocking the size of its Twine Ball, before heading into his original tale of a family vacation to see the "Biggest Ball of Twine in Minnesota."
The 90-minute concert had him doing hits spanning his whole career, parodies and originals. The Robin Thicke parody "Word Crimes" got the crowd dancing. We then figuratively exploded when Al dedicated his song "One More Minute" to the all the ladies ... that he never wants to see again. The stage couldn't contain him as he hopped into the front row and proceeded to give gifts from his person including scarves and underwear during the song.
Then came the event we were all waiting for ... DRUM SOLO! While the spotlight was on the birthday boy doing his solo, Al had his first of many costume changes. He came out dawning a new top and that led into the parody of MacArthur Park. The song "Jurassic Park," played along with the clay-mation music video appearing behind the orchestra on the big screen. Al made great use of the orchestra with this song as well as "Don't Download This Song," "Harvey The Wonder Hamster" and "Weasel Stomping Day."
The biggest thrill for me of the night was during the Pharrell parody of "Happy" titled "Tacky," Al got off the stage and wandered into the audience, interacting with many of the crowd! Including walking right by my wife and I. He looked at me! (Mind you, I have met him twice and have done one phone interview with him, but I was still thrilled.)
After he got back on stage he introduced the band and orchestra, and proceeded to perform "Jackson Park Express," a 9-minute song (heavy on the orchestra) about the interactions between two would-be lovebirds on a 3-minute bus ride.  The show then started getting heavy into the pre-made videos allowing for the band to do a costume change. Intermixing many of his past movie and TV performances and voiceover work, with other works for Epic Rap Battles of History or his biopic parody made by Funny or Die titled "Weird."
First of the songs/costume changes was as Al channeled the late great Kurt Cobain for his song "Smells Like Nirvana." Then into the Devo-style parody of "Dare to be Stupid," Chamillionaire's parody for "While & Nerdy" complete with Al riding a segue on stage! The final song of the main set was Coolio's Gangster's Paradise parody "Amish Paradise," which was spectacular with the live orchestra. He then talked about how he'd love to keep playing all night long, but the sheer logistics of it isn't possible. In a nod to the classic James Brown, he also how said kept wanting to perform, but physically couldn't, complete with cape.
The encore was amazing! Al brought the house down by bringing a ton of Star Wars characters on stage, including Storm Troopers, Jawas, Bounty Hunters & the one and only Darth Vader! Al dressed as a Jedi Knight rocked out with his Don McLean parody "The Saga Begins" and wrapped up the night, accordion in hand, for The Kinks parody, "Yoda."
A great night, with great music at an amazing venue! I was even happy enough to bump into former KATS DJ & Todd morning show partner Claire "Sharon Peters" Stevenson. Check out all the pics that were good enough for me to post in the gallery below.