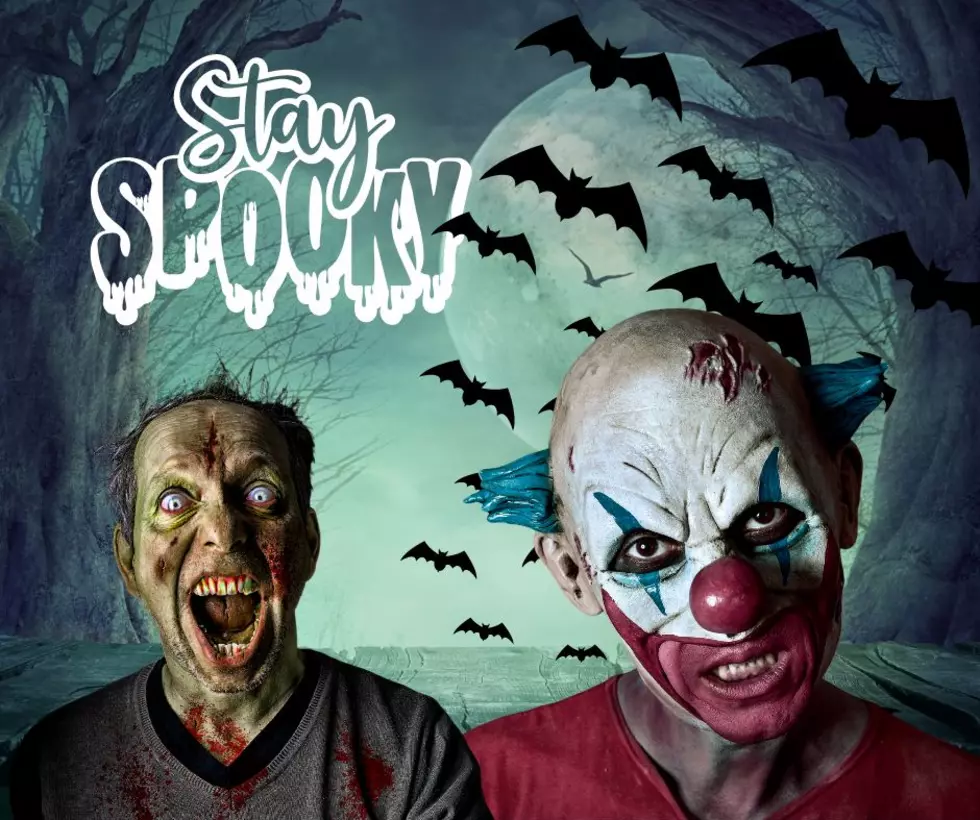 Our Top 5 Haunted Houses to check out for Halloween
Yakima dme canva
It's the perfect time of year to hang out with goblins and ghouls while enjoying the spooky aesthetic of some fantastic haunted houses in the Pacific North West. If you're looking for some good scares or just a fun place for the kids to hang out we have them all.
We'll check out this list and let you know what's a great place for little kids and which ones may be a little too scary for them. However, if you're not a parent you'll wanna stick to the scary stuff to truly get into that Halloween Spirit.

5.) Stalker Farms-Haunted Attractions in Snohomish
Stocker Farms is a family-owned farm that everyone adores however when fall comes around the land becomes haunted and turns into Stalker Farms. They host a few different haunted attractions including a haunted corn maze, a haunted house, and even campfire rentals.
The best thing about this place is it is kid-friendly, so much in fact that if your kiddos want to brave it thru the haunted house the workers are understanding and will do less to try and scare them to make sure you don't have to exit halfway through. V.I.P tickets are available so if you're looking for a scare of a lifetime I'd grab them now.
Tickets to Stalker Farms-Haunted Attractions 
4.) Mad Hatters Haunt - Yakima 
Madd hatters Haunt is a nonprofit organization that raises money for local clubs and other businesses. The greatest thing about this place is the haunt feels real in a way since it's based on true events. Every year is a slightly different theme based on history, it started with a hat company that used toxic material in their hats, and it drove people insane with no true reasoning as to why. This year they'll have a birthday-styled theme which is one you don't wanna miss. You'll have to make your way through the haunted trails and get to safety, but to do it you'll have to go through the woods which are said to have some unwelcomed guests waiting for you.
Get tickets now by following the link below.
3.) The Haunted Tents - Yakima
This haunted attraction is put on by a local family who has been doing it for quite some time. They strive to give you a fun and spooky experience like none other. They'll be opening on October 24th and going until November 1st. Nothing quite beats free, so while you're there make sure to be kind and curious to those working the haunted attraction while having some good old scary family fun. Once again this is absolutely free to come and check out, however, any donations are accepted and given to the Make-a-Wish Foundation. This will be their 28th year hosting and giving back to the community.
Get more info on their haunted house below.
2.) Georgetown Haunted Morgue - Seattle 
Some places in this world just give off spooky vibes, like oh I don't know, a Morgue. This Georgetown Morgue is the real deal, but during the Halloween season, it transforms itself into a haunted house that will leave you screaming to get out. This Morgue becomes haunted by ghosts and ghouls left over from the history of this real morgue. Looking to add you to their ghostly family you'll have to make your way through the morgue through fright and terror to come out on the other side. As for kids, there are a few selected days where they leave the lights on for this haunted attraction.
Get tickets and see the schedule by using the link below
1.) Nile Nightmares Haunted House - Mountlake Terrace 
Nile Nightmares goes above and beyond every year introducing new attractions and themes to make sure every year is more haunted than the last. This year they have 8 different attractions for the whole family to enjoy including a haunted house, a haunted escape room, and more! They'll also have food trucks available to get ya nice and full before your next haunted fun.
Check out tickets for the haunted Nile Nightmares below.
Nile Nightmares Haunted House -Mountlake Terrace
25 Scaredy Cat-Approved Halloween Movies
SWEET: Here are the most popular Halloween candies