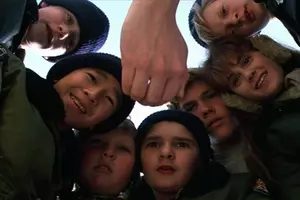 The Goonies 35th Anniversary Is Coming to Oregon!
Warner Bros
The Goonies have touched many lives. Mine included. I love the film, and have even rallied and signed petitions for us to one day get an ultimate cut of the film that has both the Ice Cream Convenient Store Scene where they get a map before they ride their bikes down the hill, as well as the Octopus scene towards the end of the film. (So far Steven Spielberg has ignored my fan letters, but the restraining order is still in effect, so he knows of my existence). Being in the Northwest, and especially so close to Oregon, that movie needs to be a staple to watch for everyone in the great Northwest.
The film will be celebrating it's 35th Anniversary and Oregon Film & Travel Oregon are going all out! A four-day even taking place in Astoria! It's taking place this summer, from June 4th to June 7th.
Via a press release to announce the event:
"During the four-day event, Goonies fans can hear tales about filming from those who were there, bowl at "Chunk's Bowling Alley" as seen in the film, and embark on their own adventure with an interactive scavenger hunt. Official memorabilia, including t-shirts, hats, glassware, and more, will be available at the event's headquarters, which will once again be at the Astoria Armory." 
Cast has appeared at past events, but none have confirmed as of present time. For more info about all The Goonies fun, including big screen showings of the film leading up to the event,  check out /Film for all the details!