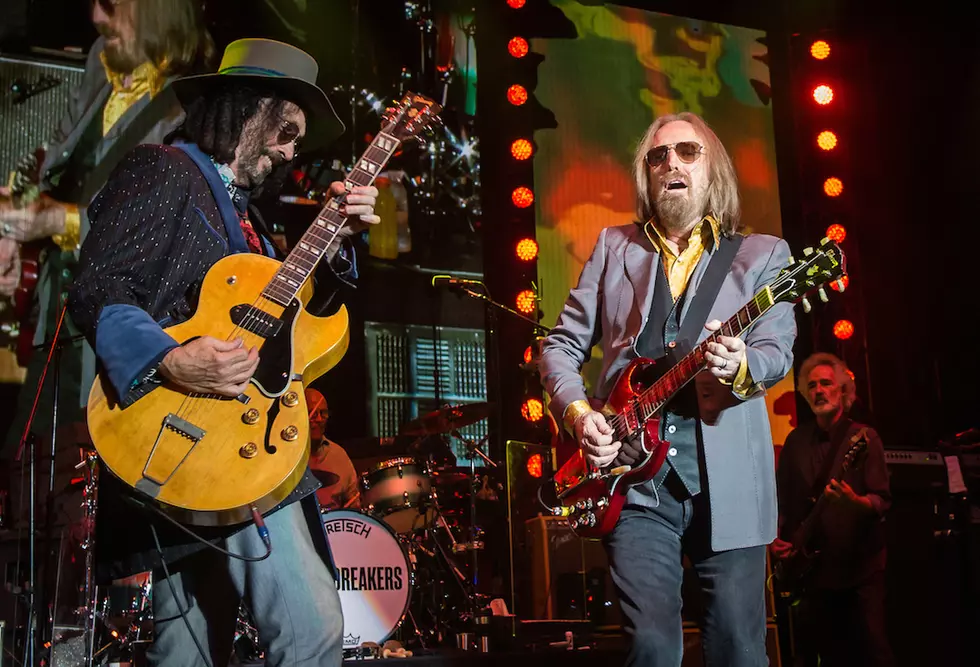 Tom Petty Shares 40 Years of History at Mountain Jam
Joshua Timmermans
If Tom Petty and the Heartbreakers are, as they've suggested, approaching the end of their touring years, there are still plenty of hints that their musical legacy will continue to grow. During Saturday night's headlining performance at Mountain Jam, as the familiar chords of "Learning to Fly" began to drift across the audience, a mother leaned over to her young son, telling him, "It's your favorite song, honey," a moment which confirmed that new generations are still discovering and appreciating Petty's work.
If the boy's knowledge of the catalog was limited, he certainly got a substantial education during the band's set which offered up a generous cross-section of their career that ended up being a perfect fit with the festival crowd. The Mountain Jam setlist spread 19 songs from their hefty body of recorded work across two hours and when you start to think about all of the songs that weren't played ("Don't Do Me Like That," "Listen to Her Heart," "Breakdown," just to name a few of the really well-known favorites that were missing in action), it quickly becomes clear that Petty and the Heartbreakers could have easily played a Bruce Springsteen-esque four hour set and still have some hard choices to make on what to keep in and what to keep out. As Petty told the crowd early on in the night, they were treating the current anniversary like a big vinyl record, picking up the needle and putting it down in different places all through the night.
There weren't nearly as many rarities in the setlist (which pulled heavily from the large stack of hits on 1994's Wildflowers and 1989's Full Moon Fever) as one could have hoped for, but the ones that were there were pretty choice picks -- such as "Rockin' Around (With You)," which kicked off the night, coming straight from side one, track one of their debut album. "Yer So Bad," from Full Moon Fever, was another choice extract. Petty even found room for a request -- even though he admitted quickly, "It's actually my request. That counts anyway, right?" It was a humorous setup for the arrival of "Walls," which has been an extremely welcome addition on this current tour and perhaps slightly unexpected, coming off of the oft-ignored She's the One album.
The audience at Mountain Jam did get an exclusive moment when Petty announced that he was going to bring out "one of country music's great guitar players," introducing Marty Stuart, who played his own set earlier that same day. Stuart and the Heartbreakers have a longtime connection, having worked together with Johnny Cash in the Rick Rubin era -- and guitarist Mike Campbell also recently produced Stuart's latest album, Way Out West. Joining the Heartbreakers for the Wildflowers chestnut "Crawling Back to You," Stuart and Campbell shared guitar duties and the mutual respect between the two was evident.
The night's set was also elevated by the presence of the Webb Sisters, who have been touring with the band and providing background vocals. Their presence added additional punch to the band's well-established sound, and they brought a certain exuberance to classics like "Refugee" and "Don't Come Around Here No More," one where their voices rode high in the mix with a invigorating gang vocal delivery on the signature "Heys!" in the song.
A handful of tracks from the last couple of albums, "Forgotten Man" and "I Should Have Known It," from, respectively, 2014's Hypnotic Eye and 2010's Mojo were a heads-up for longtime fans who might have tuned out that they are still making music that's worth hearing. "I Should Have Known It" in particular, featured a barn-burner of a solo from Campbell that added electric layers of truth to Petty's promise that, "We're gonna turn the amps up really loud on this one."
"I've spent a lot of my life with them and them with me," Petty poignantly told the crowd during the band intros, in which he heaped praise on each member individually, including original bass player Ron Blair ("You know bass players never get the applause they should.") Campbell (with whom Petty said he connected as a result of an ad he saw in a local music store), keyboardist Benmont Tench ("I knew he was good, but I didn't know that he was better than everybody else in the world"), multi-instrumentalist Scott Thurston ("I won't leave town and go on the road without this guy") and drummer Steve Ferrone ("the new guy after 24 years with this band," Petty cracked).
Petty and the Heartbreakers are playing with a particular renewed fire on this current tour. So many years into their time together as a band, it's a truly inspiring thing to see.