The Movie Theater Experience Post COVID
tsm/Timmy!
I could recap all the things we weren't allowed to do in the year 2020 due to... well you know. By doing that I run the risk of depressing everyone as well as jinxing the rest of 2021, so I won't. You were there, you know what happened, or in other words, what didn't happen. The movie theater experience was one of the many things that didn't happen, and one of the biggest things I missed most during the pandemic.
Even though our state/county has fully opened up, I'm still not sure when and where masks will be required, by staff as well as patrons. I've also have been surprised by what places have kept the "plastic guards", and others who have done away with them completely. So when I stepped foot into a movie theater for the first time in almost a year and a half, I really didn't know what to expect.
Why did I wait so long?
Well, when it comes down to it, I waited to go back to the theater because of my wife. She was a little worried the virus, but more importantly, there just hasn't been anything she wanted to drop the money on seeing. If I had my way, I would have gone to see TENET, Wrath of Man, Godzilla Vs Kong, & The Hitman's Wife's Bodyguard all in theaters. "The Wifey" didn't want to, and I fear the reaction from her if I go to the theater solo, much more than I fear catching COVID (you can read about my vaccination adventures here).
The Movies!
I'm a huge comic book fan, so I've been so thrilled these past 10+ years with all the superheroes on the big screen. It just figures that the last film I saw in the theaters was opening night on January 25th, 2020, for the DC movie Birds of Prey (And the Fantabulous Emancipation of One Harley Quinn). I loved it, and if I knew that would be the last theater experience I'd have in almost a year and a half, I still would have chose that one.
The first movie back was of course, Black Widow with Scarlett Johansson. The wife & I both wanted to see it, so that's what I got to see. I'd give an in depth review of it, but other sites are all over that. I'll just say, if you're a fan of the Jason Bourne Franchise or Captain America: The Winter Soldier, you'll love this one!  Instead, I'm going to tell you what I experienced going into the theater now that everything is open.

The Movie Theater Experience!
Simply, It was like I was transported back to January 2020. No mask required (I did have one in my pocket, just in case), no plastic barriers between the seats, no extra spacing buffers in place. It was nice, and for the first time in a very long time, really felt like we are getting back to "normal". The main difference I did notice and enjoyed, was in the past, seats were "first come first sit", meaning standing in line for quite a while before the doors opened up. Well, (at least at The Orion Theater) we pre-purchased our tickets and were able to pick where we wanted to sit. It was nice to not have to stand in-line on opening weekend for a movie, just to get a good seat. All in all, in my opinion, I felt just as safe as ever, and am looking forward to many, many more movie nights at the theater!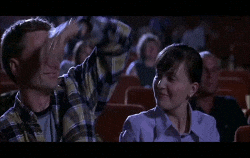 80s Child and Teen TV Stars: Where Are They Now?
LOOK: These Stars Grew Up in Small Towns