Todd & Timmy's Wheel Of Goodness!
Getty Images
The Wheel of Goodness also known as the W.O.G., is sufficiently lubed and ready for you to Spin & Win! You know the deal, we tell you to call (509) 972-KATS (5287), you get through, you spin, you win! A big thank you to the fine folks at at Warner Bros (WB) for helping us out with digital downloads of their releases! They hooked us up, so we can hook up all our cool KATS listeners! Prizes so awesome on the wheel, you'll do a wheel!
The Matrix**
No movie has questioned reality or humanity's future like The Matrix. Plug in to meet Neo, Trinity, & others before the exciting new story arrives. The Matrix has you! Purchase The Matrix with Keanu Reeves, Carrie-Anne Moss & Laurence Fishburne on 4K ULTRA HD™, BLU-RAY™, AND DIGITAL! Just Click To Jack In! Or Spin & Win The Matrix on Digital with Todd & Timmy!!

Mortal Kombat Legends: Battle of the Realms**
A new wedge on the Wheel Of Goodness! Straight from Timmy's Basement, a digital download to the animated sequel to the all out Mortal Kombat fight fest! Mortal Kombat Legends: Battle of the Realms! If you're a fan of the long running video game series, then you know all about it. If you're new to the mythos, check out the trailer for this adult oriented (blood & violence) animated R-Rated adventure & prepare to spin the Wheel of Goodness for your chance at scoring this animated adventure!
The Conjuring 3: The Devil Made Me Do It**
The terrifying Conjuring Universe continues in this 3rd installment! Ed & Lorraine Warren are back, unraveling their most sinister case yet! Based on the true story, the first time in US history that demonic possession was used as a defense in a court of law! Prepare yourself for "The Conjuring: The Devil Made Me Do It" OWN IT NOW on Digital & Blu-Ray™ or give a Spin & Win on the Wheel Of Goodness!
Willy Wonka & The Chocolate Factory**
Celebrate 50 Years of Pure Imagination with "Willy Wonka & The Chocolate Factory"! Feast your eyes on the sweet treats and whimsical magic like you've never seen before, in beautiful high definition! Just give a spin & win this Gene Wilder classic! If you don't want to wait, you can own it now on 4K ULTRA HD™, BLU-RAY™ & Digital!

Deathstroke: Knight & Dragons The Movie!**
One more wedge on the Wheel of Goodness (that doesn't involve a lose a turn, bankrupt, or spin again). & That's another prize straight from Timmy's Basement Secret Stash! The DC Animated Movie: Deathstroke: Knights& Dragons The Movie! DC Comic's villain and now anti-hero Deathstroke in his first staring & solo film!
You never know which prize will be on the W.O.G. so tune in every weekday morning for your chance to spin and win with Todd & Timmy & 94.5 KATS!
**Prize stock is limited, will be on the wheel while they last!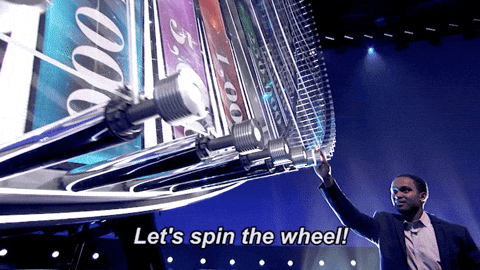 READ MORE: 25 Companies You Might Not Know Are Owned by Disney
How long it takes to binge 'The Office,' 'Game of Thrones,' and 50 other famous TV shows
25 True Crime Locations: What Do They Look Like Today?
Below, find out where 25 of the most infamous crimes in history took place — and what the locations are used for today. (If they've been left standing.)