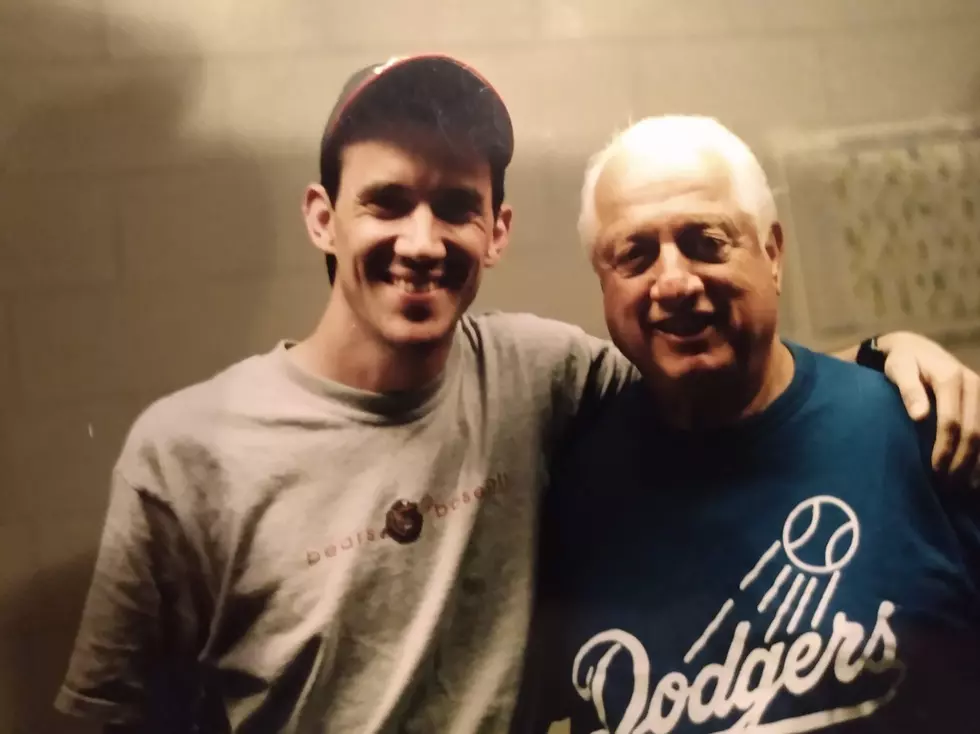 Todd's Take: My Time With Baseball Icon Tommy Lasorda [PHOTOS/VIDEO]
TSM/Todd Lyons
I can't tell you how bummed I was to hear about the passing of baseball legend Tommy Lasorda this morning.

Sure, he was 93 years-old and lived an amazing life but, as a fan of the National Pastime, his genuine exuberance for the game will never be replicated. I should know. I got to spend some time with him on a few occasions when he would visit Yakima to see the Yakima Bears play.
You see, at the time, the Bears were a minor league affiliate of the Los Angeles Dodgers. Tommy, long retired from managing, stayed with the club to help scout, etc. Mostly though, he was just a tremendous ambassador of the game.
On one of his stops here, I got to meet him in the clubhouse (locker room) before a game. Tommy was always the center of attention so I quietly waited until the time seemed right to ask him if I could get a picture with him. Mind you, this was pre-cell/camera phone days. I had specifically bought a disposable camera hoping the opportunity would present itself. It did and Tommy couldn't have been more gracious!
Lasorda finished his big league managerial career with 1,599 career victories. Because the Bears were already eliminated from the playoffs that season, it was decided and agreed that Tommy manage the Bears that night. He made out the lineup card. He coached at third base when Yakima was up to bat.
In the bottom of the 9th inning, with the score tied and a baserunner on third, Tommy called for a squeeze play. The Bears executed it to perfection and won the game. The crowd -- and the players themselves -- went berserk! It was as if they had just won the league championship!
Some other memories I will have of Tommy was when I attended the 2001 Major League Baseball All-Star Game at SafeCo Field in Seattle.
I won't tell you what happened, just watch for yourself!
Tommy was always jovial to the fans but on the field he was a fierce competitor. There are a couple of infamous incidents when Tommy's temper -- and toungue -- got the best of him.
Exhibit B:
(WARNING: COARSE LANGUAGE)

Probably the image that I will remember the most when I recall him is his sheer, unadulterated joy after Kirk Gibson hit a walk-off home run in the 1988 World Series.
Rest in peace, Tommy. God broke the mold when he created you.
I've got lots of stories. If you care to hear them, simply opt-in for our "Alerts" via our free mobile app!

Enter your number to get our free mobile app
Rock on! \m/ \m/
Todd E. Lyons, Esquire
KEEP READING: Here are 50 of the most famous sports goofs