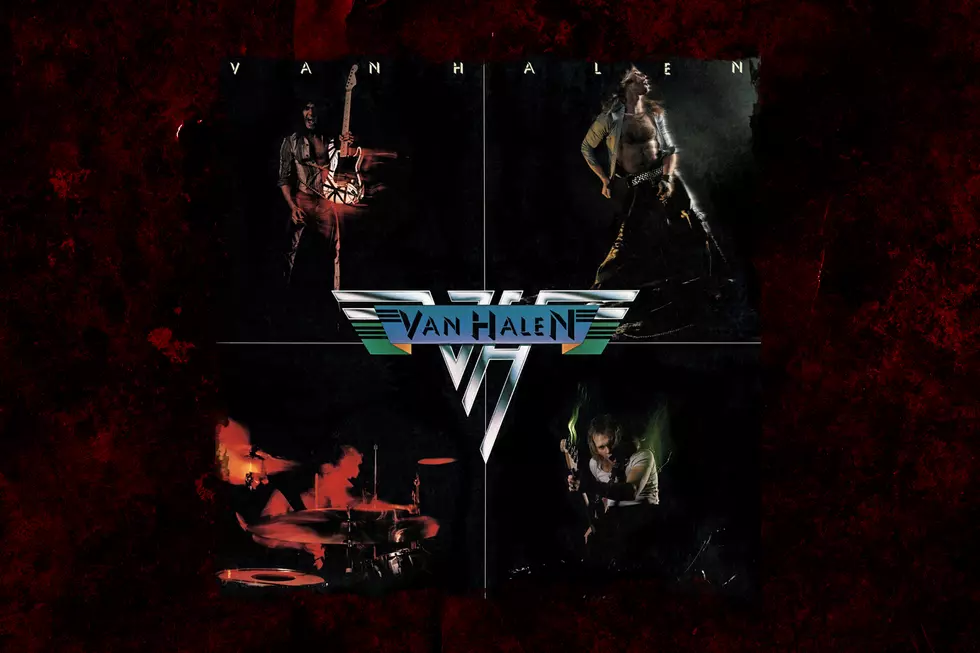 Van Halen's Debut: A Look Back at the Album That Changed L.A.
Warner Bros.
West Los Angeles in the 1970s was a heady place to grow up. At 14, I'd take the bus - or hitchhike! - to the stables to ride horses in the hills. I'd hit the beach in Santa Monica, where my friends and I, slathered in baby oil, would broil on the sand - stoned, of course - cranking up KLOS or KMET, the great rock stations of the day. With allowance and babysitting money we'd buy albums at Licorice Pizza or the Odyssey (the upstairs arcade was where the stoners hung out, playing Asteroids).
I had no siblings to turn me on to music, no Almost Famous guidance, ala "Listen to Tommy with a candle burning, and you'll see your entire future!" From my mom I got Pete Seeger and the Mason Williams Orchestra ("Classical Gas"). From my dad, his Cream and Rolling Stones vinyl. Ultimately, it was radio - and older friends - who tuned me in and turned me on. In 1977, at 13, I went to the Forum to see Queen - with my French class friend Anne's mother Mrs. Blankenbaker driving and chaperoning (oh, the teenage humiliation!).
I was seriously into music, but was too young to drive and shy. And the storied rock clubs, six miles East of our safe West L.A. apartment, were a scary destination. Of course, cooler kids were hanging out in Hollywood by the age of 13. But I'd seen those cautionary After-School Specials and Sarah T. - Portrait of a Teenage Alcoholic. I was a good girl with bad girl fantasies.
Enter Van Halen's first album. If East Coast radio stations were heavy on the Billy Joel and Springsteen, L.A. airwaves were laden with the Doors and Eagles. That is, until early 1978, when the L.A. band came along and wiped the Laurel Canyon sound clean with wailing guitar solos, fast-fingered guitar machinations and a tone that revolutionized rock 'n' roll. It was paired with an athletically animalistic frontman and a beefy rhythm section, and drums that at times sounded like a fast-idling Harley.
Hard to imagine, and with apologies to Sgt. Peppers: It was 40 years ago today that Eddie Van Halen showed the world what he could play... and how fast he could play. That first record blew everyone's minds. I still own my original copy. I still know every word and nuance on the album. From the first seconds: The omnious, increasing volume of car horns, booming chug of Michael Anthony's bass, the quick tinkle of piano then David Lee Roth's screamed "Ah yaaaahhh" that kick off "Running with the Devil" - it's perfection. "Running with the Devil" sounds as stellar in 2018 as it did in 1978.
Sure, my friends and I would air guitar to Eddie's solos, but as a failed acoustic guitarist (my rendition of "Octopus Garden" was a show-stopper, according to my mom) I didn't yet understand the two-handed tapping and innovative genius that was Eddie Van Halen. That came later. (Twenty years hence I'd have a column in Guitar One magazine. And I'd also listen, as Rick Derringer told me that Eddie stole the tapping from him! And I also became email buddies with Van Halen producer Ted Templeman!) But as a kid, an devourer of books, it was Van Halen's lyrics, the energy and the instantly memorable sing-along songs that floated my teenage boat. Plus - and it's embarrassing to admit it now - David Lee Roth's long hair, spandex and swaggering charisma initially drew me in more than Eddie's scorching playing.
Van Halen, from the front to back - because that's how we listened to it - was flawless, with not an ounce of fat. There wasn't a single song you lifted the needle to skip. As a young teenage girl, "Jamie's Cryin'" - side two, song one! - was my song. When my friends and I would meet boys at the beach or the UCLA Mardi Gras, we'd give fake names. I, of course, was "Jamie," after the tearful hard-luck heroine of the song, whose one-night-stand with a rock star was heartbreaking. I barely knew what a one-night stand was, but I also knew that I would be the hapless type of girl who "wants to send him a letter / Just to try to make herself feel better." Paired with the amazing achievement that is "Ain't Talkin' 'Bout Love," they were the perfect paeans to young lust. "I been to the edge," quoth Dave. "And there I stood and looked down / You know I lost a lot of friends there baby / I got no time to mess around!" You felt Roth had some gravitas under his grandstanding.
The songs on Van Halen are dangerous fun, full of sexy, devil-may-care bombast in the best way possible. In the pre-AIDS culture of sex without consequences, they speak of freedom-"I live my life like there's no tomorrow, all I got I had to steal." The album put my bad-girl fantasies into song. I wanted to have "nobody waiting at home," instead of a mom who I'd see silhouetted in the window when I snuck home at 3 a.m., full of lies about running out of gas. Van Halen were my "Freedom Rock," my daydreams of sex and partying and rock 'n' roll, purveyed in 11 songs and 35 minutes. (I'm listening to "Eruption" as I write this: there's still no solo more iconic.) In retrospect, of course, songs like "Feel Your Love Tonight" would not fly in today's #metoo world: "We're gettin' funny in the back of my car / I'm sorry honey if I took it just a little too far, yes" and "Better use it up before it gets old." But in 1978, nobody gave it a second thought.
"I'm The One" was almost punk-like; its fluid, boogie mania with Roth's bonkers jazz/scat breakdown, Alex Van Halen's double-kick mania, Michael Anthony's frantic bass and backing vocals and, of course, Eddie's six-string excellence wiped away the Joni Mitchells and the James Taylors from our hearts. The beginning of "Atomic Punk" was mind-blowing: I couldn't even be sure it was a guitar making those frenetic "wiki-wiki" noises. Roth's cocky, always-on-10 vocals made you believe that, indeed, nobody ruled those streets at night like Roth did.
Before VH was ever on my radar, circa 1976 and '77, Van Halen played the Starwood, a legendary club that also saw future members of Motley Crue grace its stage. But by 1981, while at University High in West L.A. (alumni include Kim Fowley and Tone Loc!), I got my license, and in my mom's Buick Special station wagon, I headed east. Mostly to West Hollywood's all-ages Troubadour, every week seeing both new wave and burgeoning metal bands: Berlin, W.A.S.P. Quiet Riot (post Randy Rhodes, sadly) and hundreds of others who saw less fame.
With my fake ID, Sonny, the bartender at the Troub's front bar, served teenage me gin & tonics (I thought that seemed "adult"). It was one of those nights where David Lee Roth touched me. Me, the former "Jamie." Of course, Roth didn't notice, but wow, I did. He brushed by me at the bar, and I touched his elbow. On purpose. It was a big deal in my good-girl world. I skipped my high school prom in favor of nights and experiences like this.
I still didn't know that rock 'n' roll would become both my obsession and my vocation. As my life and Van Halen's career carried on, both VH and I enjoyed our successes. For me, though, nothing of VH's ever captured the flawlessness and flow of the first album. Back then, I viewed "Ice Cream Man" as a bit of a throwaway; was that the reason it was the closing cut? The moodier, mid-tempo "Little Dreamer" was, likewise, not tops with me, but as it, and I, have gotten older, I appreciate its slightly more subtle approach.
Roth's elbow was not my last Van Halen encounter. Interviewing David Lee Roth for his 1988 solo album Skyscraper - I may still have been in journalism school! - I was warned by the publicist not to bring up Van Halen. Within two minutes, he'd brought it up. Any journalist will tell you, Roth's the easiest interview ever: turn on your tape recorder, and off he goes, bon mots spewing from his mouth.
Then, in the Van Hagar era came the thrill of seeing the band in a small club - the opening of Cabo Wabo in Mexico, no less. (Ah, the days of free journalist junkets. I recorded the show on my hand held cassette recorder. I still have the tape.) Thanks to my career as an editor at RIP magazine, I saw the Sammy Hagar-led version many times, and while they were great (I'd been a fan of Hagar's from back when he was the lead singer of Montrose), Roth's swaggering rock star presence was simply superior to Hagar's every-man appeal.
My Van Halen story came full-circle on January 5, 2012. Van Halen played Café Wha?, a small, legendary club on New York City's MacDougal Street, founded by Manny Roth, David's uncle. As David said from stage that evening: "There is no hiding up here. There are no fake vocals. There is no fake anything." There wasn't, and even when it wasn't perfect, it was perfection. The first four songs were "You Really Got Me," "Runnin' With the Devil," "Somebody Get Me a Doctor" and "Everybody Wants Some!!" and seeing the interaction - admittedly not a lot, but still - between Roth and Eddie... it was nothing short of a dream come true.
There is no Van Halen other than the lineup with David Lee Roth, and, it must be said, Michael Anthony on bass. Just like is no other Black Sabbath than the version with Ozzy and Bill Ward. Much as I like - and I do - both Sammy Hagar (and Ronnie James Dio, by the way) Roth wins the VH crown. And Van Halen is the biggest jewel in it.
Loudwire contributor Katherine Turman is the co-author of Louder Than Hell: The Definitive Oral History of Metal, and the producer of  "Nights with Alice Cooper" and is the former Editor-In-Chief of legendary metal magazine RIP. She has written for The Village Voice, The Los Angeles Times, Esquire.com, Rolling Stone, Noisey, Marie Claire, Billboard, Spin, New York Observer, Mother Jones, LiveNation TV, San Francisco Weekly, L.A Alternative Press, Guitar World, Amazon.com, 'TEEN, Black Book, SOMA and many other outlets.
Top 11 Bands Whose Debut Album Is Their Best