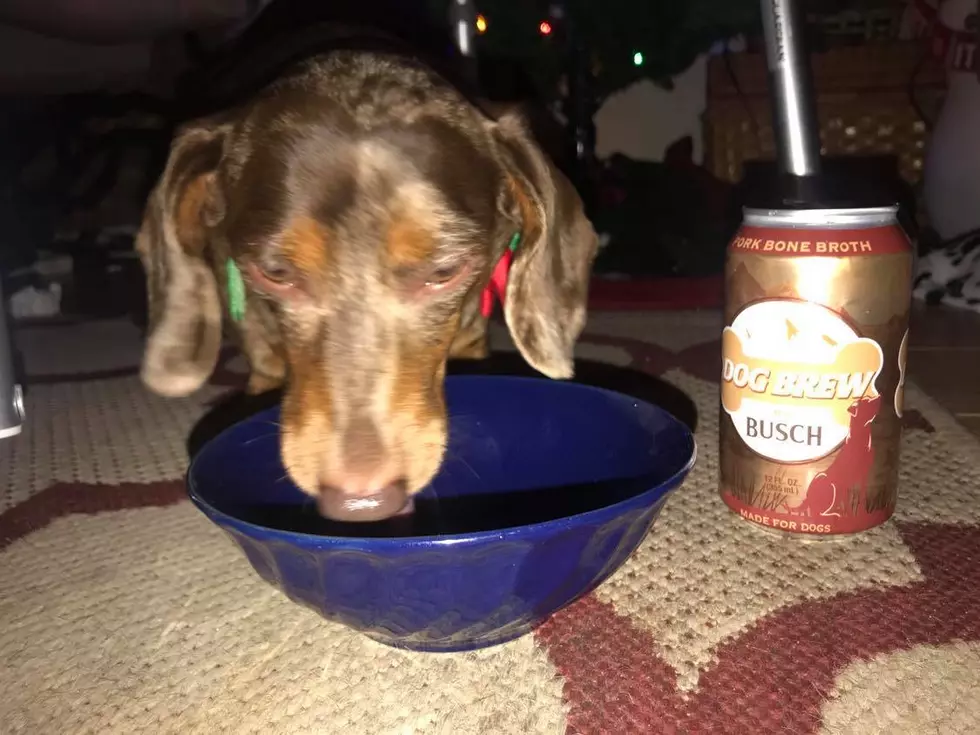 Some IPA for your D-O-G (REVIEW)
Rachel Friederich
Mmmm...beer. In 2018, Americans drank 6.3 billion gallons of beer. That's about 26.2 gallons per drinking age adult. And now your Fifi or Fido can join you, thanks to Busch Beer. Back in September of 2020, the company launched a limited-edition run of Dog Brew, with some of the proceeds going to the Best Friends animal welfare society. (As reported in the KATS story of A Tall Boy for your Good Boy). There was such a high demand for it, it's now a permanent product.

As an amateur food blogger and dog owner who lives to spoil her canine companion, I ordered some, curious to see if it really is the nectar of the dogs.
It's important to note there is no actual alcohol, hops, nor other beer ingredient  in Busch Dog Brew. It is 100% pure pork bone broth, which is safe for your dog to drink. It just comes in a clever beer can to give you the illusion that you are pouring some suds for Rover.
Dog 1: Bailey
Approximate Age: 5
Breed: Basset Hound/German Shepherd Mix
Basset hounds and German Shepherds rank at the top in terms of doggie sniffers. Bailey was so so excited to smell the can, he tipped it over with his nose before I opened it, so I was almost sure Dog Brew was going to be a hit.
I poured a little in a bowl and when he saw what was in it, he looked at it, then looked at me in a confused way as if to ask "What the Hell is this, human?"  I encouraged him to give it a try. He took a few licks, just to sample it and then walked away. I mixed some of his kibble in with it, like the manufacturer suggested. The kibble sat in the bowl for a good 10 minutes, getting the texture of an old sock that had been left in a puddle before Bailey came back and ate the kibble. I mixed some more kibble and Dog Brew, but it sat untouched for the rest of the night.
So, if I had to translate my dog's review, it would be "Meh." If my dog ever got lost, hadn't eaten for days and the only thing he could find in a garbage can was a half empty can of Dog Brew, I think he might drink it then. But only for the sole purpose of survival until I found him.
Editor's note: Bailey may not be the best fine dining connoisseur. He spends a considerable amount of time licking his private parts and sticking his tongue up my nose--and not necessarily in that order. 
Dog 2: Danni
Approximate Age: 6
Breed: Dachshund
I decided to bring a can of Dog Brew for my mother-in-law's dog to try over the holidays. Danni is spoiled. Besides gobbling up her regular dog food twice a day, Danni has conned my mother-in-law into giving her table scraps at almost every meal.  So, it was no surprise Danni immediately lapped up the Dog Brew.
Editor's note: Danni does not have discriminating taste. If anything remotely edible-looking falls on the floor, she will eat it. I don't think there is any type of food she has ever turned down. 
So averaging out the ratings from my two taste testers, Busch Dog Brew gets a solid B.
With every order, Busch sends a sheet with a list of FAQs about ingredients and serving directions (as an occasional treat or as a light supplement to soften dry dog food).  It also answers the question as to whether or not it is fit for human consumption. The answer: Yes.
I would be remiss if I didn't give it a review myself. What does it taste like for the human palette? As a professional writer, I have a duty to report the facts. So I bravely took a swig of the Dog Brew concoction. So, what does it taste like? In short, like barf.
As a kid, I suffered from the stomach flu many times. As the Dog Brew lingered in my mouth, the flavor conjured up horrific memories of me spending hours laying on the couch until I hurled into a bright orange Halloween pumpkin bucket. To the human palette, Dog Brew is akin to a mixture of rancid carrots, pumpkin and canned stew with a lingering mystery meat after taste. Which is apparently, appealing to dogs.
Conclusion: I'm glad I'm not a dog.
Where to get Busch Dog Beer: It is available exclusively online at https://www.busch.com/dogbrew. Total Cost: $17.99 ($9.99 for a pack of four of 12-ounce cans, plus $8.00 shipping)
Check out these 50 fascinating facts about dogs: